Doctor Strange in The Multiverse o Madness - The Loop
Play Sound
"

Boomerang blade! Boomerang blade! Boomerang blade!

"
—Steven
"Steven the Sword Fighter" is the 16th episode of the first season of Steven Universe, and the 16th episode overall.
Official Synopsis
Pearl tries to teach Steven the art of sword-fighting by using a holographic version of herself.[2]
Plot
Steven and the Gems watched a Japanese movie called "Lonely Blade IV", which Pearl criticizes, claiming that it is nothing like real sword-fighting. She then offers to show a demonstration of proper sword-fighting techniques to Steven, which he excitedly accepts.
Pearl then takes the Gems to a cloud temple where Amethyst is sitting on a cloud floating in the air. Pearl says she is in need of a sparring partner and Steven raises his hand, but Garnet quickly shoves it down. Pearl then says that she already has the perfect partner and projects a hologram of herself who is trained to sword-fight. They then have a battle, Steven and Garnet cheering on Pearl, Amethyst on the other hand cheering for Holo-Pearl. Pearl finally wins, and Steven asks Pearl to teach him the art of sword-fighting. She then shows him the basics, leaving him bored, so he requests for Pearl to do the "Boomerang Blade" from the movie. Pearl then begins to lecture him on how you have to "wait for the perfect time" in sword-fighting and gets distracted from her fight. Holo-Pearl then stabs Pearl in the back with her sword, impaling her. All the Gems go in shock as Pearl disappears, leaving only her gem behind. Steven begins to cry and blames himself for what happened to Pearl.
Garnet then explains that this has happened in the past, and Pearl will reappear as soon as she is gathered enough energy to heal from her wound. Steven then asks how long it will be, two weeks pass and Pearl still has not regenerated. Steven gets depressed and tries to fill Pearl's void by hanging out with Pearl's holographic clone, but the clone is only interested in combat practice. The other Gems tells Steven to stop hanging around with Holo-Pearl, as it is getting creepy. Meanwhile, Amethyst eats a part of a cloud, inflates like a balloon and goes flying into the sky when Garnet accidentally lets go of her leg.
Steven tries to get a reaction by taking her to Pearl's favorite tree, but when he tells her "not hold back" she takes this as acceptance of her challenge for battle and chops down the tree. Steven, annoyed by how much Holo-Pearl wants to fight him, runs away and back to the house.
Later, Steven is planning to watch "Lonely Blade V", but Holo-Pearl tries to get Steven to fight her again and destroys the TV in the process. Steven finally snaps at Holo-Pearl, yelling at how horrible she is and how all she wants to do is fight him, unlike the real Pearl, pushing the holographic version in the process. This results in Holo-Pearl attacking Steven in basic attack mode, which Steven throws his toys at, one of them hitting her, only to activate her advanced mode. She then attacks Steven, actually trying to kill him, while Steven tries to use items he finds around the house, like a walrus and boomerang. Although neither the boomerang nor walrus worked, eventually he destroys her by throwing a mop like the boomerang blade and impaling her. Finally, Pearl finishes regenerating and sees the mess that Steven has made of the house and the inflated Amethyst, and says she can not leave them alone for a second. Steven ties his shirt on like a headband and begins banging a pot with a spoon, marching around the room repeatedly chanting "Pearl's back!" as the episode ends.
Features
Characters
Objects
Locations
Music
Instrumental Songs
Trivia
Cultural References
Continuity
Errors
Transcript
View the episode's transcript here.
Gallery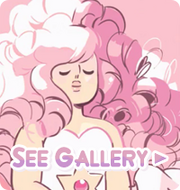 Videos
References