"

Perfect. A spontaneous fusion of love, as impossible as it was inevitable. Even I could not have guessed it. Steven is capable of fusing with human beings. I could not be prouder of Steven and Connie.

"
—Garnet, Guide to the Crystal Gems
Click
here
to see more of Stevonnie's quotes.
Stevonnie is the fusion of Steven and Connie. They formed for the very first time in their debut episode, "Alone Together".
Appearance
Stevonnie is currently the shortest fusion in the series. They are taller than Amethyst and Pearl, but are a few inches shorter than Garnet. They have an average/athletic build consisting of Connie's slim figure with Steven's chubby, stocky features, curly black hair that reaches to their thighs, and a complexion slightly darker than Steven's. Stevonnie appears to be a teenager, similar in height to the other teenage characters (Lars, Sour Cream, etc.), if not a few inches taller. Stevonnie is considered to be very physically attractive, as the citizens of Beach City seem to be in awe of their appearance.
Since Stevonnie is a fusion of two beings with physical bodies, their outfit upon forming is prone to constant change. All of these outfits can be seen here.
Personality
"

I wish you were here. If we were together, it would be okay. But we are together, and it's not. I'm alone...

"
—"Alone Together"
Stevonnie's personality is unique. As a fusion, they do not have a single, distinct personality, but instead have a blend of both Connie and Steven's minds, and they frequently alternate in their control of Stevonnie's behavior and thoughts. They carry the free spirit, friendliness, and fun-loving attitude of Steven and the courtesy, awkwardness, and intelligence of Connie.
When under pressure, Connie and Steven's personalities may become more distinct, as when Stevonnie unintentionally became the center of attention at the rave party they became nervous and had a panic attack, something that can be traced back to Connie rather than Steven.
During the first half of "Beach City Drift", Stevonnie was shown to be rather obsessive about getting back at Kevin. This trait could be inherited from Steven, because of how much anger he had towards Kevin. However, near the end, Stevonnie seems to be more carefree, simply ignoring Kevin's remarks and attempts to get their attention.
During their fight with Jasper in "Crack the Whip", Stevonnie shows courage and determination to protect Amethyst from Jasper and to defeat her, inherited from both Connie and Steven.
Abilities
Stevonnie, like all fusions, possesses an extreme amount super-human strength and agility. Despite being more human than gem, Stevonnie is much stronger than Steven by himself, most likely stemming from Connie's strength and athleticism combined with Steven's superhuman abilities. Stevonnie is strong enough to fight equally with a powerful quartz warrior. They appear to be able to utilize all standard Gem abilities, including weapon summoning.
Shield Proficiency: Due to possessing Rose Quartz/Steven's gemstone, Stevonnie can summon Rose's shield. With their enhanced strength as a fusion, they are able to withstand a direct strike from Jasper's crash helmet and absorb the potential knock-back. Like Steven, Stevonnie can also use the shield offensively by throwing it.
Swordsmanship: Stevonnie is skilled in the art of sword-fighting, an ability passed on from Connie.

Like Connie, Stevonnie is shown to wield Rose's sword proficiently when used in conjunction with her shield for fighting both offensively and defensively.

Driving: Pearl and Stevonnie are the only known Gems to ever drive a car. In Beach City Drift, Stevonnie drove Greg's new car.
Superhuman Strength/Agility: Stevonnie is shown to be graceful and agile, as shown when they are running and when they are dancing, which requires nimbleness and agility. They are also shown to be extremely strong, enough to knock the much larger Jasper back a considerable distance and drive her through the monster they were riding with enough force to poof the latter with one slash.
Speed of Descent Regulation: While fighting Jasper, Stevonnie remains in the air long enough to throw their shield at Jasper and prepare themselves to use Rose's sword.
Relationships
While Stevonnie was sitting on the bench eating a donut, Sour Cream half blushes and invites them to a rave held in a warehouse - the same place where they held a wrestling match in "Tiger Millionaire". This shows that he may find Stevonnie attractive.
Kevin is at first attracted to Stevonnie and is the first (and only) person to offer to dance with them. When they refuse, he constantly pushes at them until they finally agree. When they start dancing, he's shown to be freaked out by Stevonnie's dancing, and then flees from the club upon learning that Stevonnie was two children. After the events of that night, Steven and Connie have a mutual dislike for him, with Steven becoming obsessed with beating him in a race once encountering him again in "Beach City Drift". Eventually, they realized that Kevin was not worth their time, and decided to finish the race for themselves. The fact that he was not getting to Stevonnie's head made Kevin angry and led to him yelling at them, ironically claiming that they were still obsessed with him, as they drove away.
In "We Need to Talk", Greg was initially surprised upon seeing Stevonnie for the first time, though he assured Steven and Connie he was already aware of fusion, having witnessed it firsthand from Rose Quartz and the Crystal Gems.
Upon witnessing Steven and Connie fuse in "Crack the Whip", Jasper was immediately disgusted, openly criticizing "Rose's" willingness to fuse with a human. Stevonnie likewise refused to listen to Jasper unless she formally apologized for poofing Amethyst. When Jasper refused, Stevonnie successfully held their own and fought Jasper to a draw.
Episode Appearances
Trivia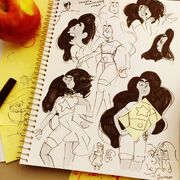 Stevonnie is the first human-Gem fusion.
It has been confirmed that Stevonnie will sing in an upcoming episode. [1]
The original Stevonnie concept sketches included another outfit design: a combination of Connie's dress on the left and Steven's T-shirt and jeans on the right, connected by zig-zagging lines and Steven's usual sandals.
According to Rebecca Sugar, Stevonnie is a "...metaphor for all the terrifying firsts in a first relationship, and what it feels like to hit puberty and suddenly find yourself with the body of an adult, how quickly that happens, how it feels to have a new power over people, or to suddenly find yourself objectified, all for seemingly no reason since you're still just you..." [2]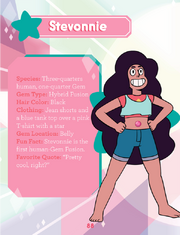 Stevonnie's portrayed age may have been created by combining Connie's and Steven's respective ages.

With that being said, around the first time Stevonnie was formed, they would be a combined age of around 24-25 years old.

Stevonnie's gemstone is the same as Steven's (and Rose Quartz's).
Stevonnie's gender has not been specified, although it has been confirmed that they use gender-neutral they/them pronouns.[3][4]

Stevonnie is the first whose use of they/them pronouns is canon.

Stevonnie's voice actress had to be instructed by Zach Callison to replicate Steven's laugh.
The name Stevonnie came from Amethyst, who named them by mashing their names together. Combining fused characters names is a practice in anime/manga series that feature fusion characters such as Dragon Ball. It's also used to refer to the relationship (romantic or platonic) between two characters in TV shows and books.
In "Guide to the Crystal Gems", Garnet describes Stevonnie as "perfect" due to Steven and Connie's ability to form a stable fusion without training or even trying, and admits even she could not foresee this.
The hallucinatory nature of Stevonnie's visions are not unlike Steven's telepathic encounter with Lapis Lazuli in "Chille Tid" and the Cluster in "Gem Drill". Whether or not this due in part to Connie's attention anxiety or some kind of gem-ability (or a combination of the two) is currently unknown.

Examples of Stevonnie's visions are when they become trapped in a disco ball in Alone Together, and when they see the road crumbling behind them in Beach City Drift.

It's unknown if Stevonnie has their own signature weapon.
Stevonnie appears to be always barefoot, even when both Steven and Connie are still wearing shoes when fusing.
In "Know Your Fusion", an illustration of Stevonnie is seen on a "test your strength" device. On this device, Stevonnie is considered stronger than Pearl, but not as strong as Garnet.
Stevonnie is apparently ambidextrous as in "Mindful Education" she is shown wielding her sword in her left hand during the first training session, and then in her right hand in the second training session.
| | |
| --- | --- |
| Image | Description |
| | Stevonnie's gemstone is placed where the navel would be, as with Steven and Rose Quartz. It has a pentagonal facet. |
Galleries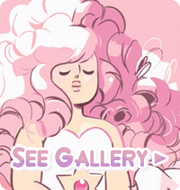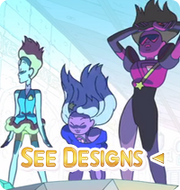 References
v • e
Fusion Gems
---
Hybrid Fusions
Crystal Gem/Homeworld Gem Fusions