"

This is how I want you to be, but I don't know if this is who you really are.

"
—Steven
"Storm in the Room" is the 17th episode of the fourth season of Steven Universe and the 120th episode overall.
Official Synopsis
Steven goes into his room in the temple to look for answers.[2]
Plot
The episode begins with Steven thanking Connie for making sure that Beach City was safe while he was gone. The two joke as Connie packs up to leave. Connie wonders if Greg likes the sign, and Steven tells her that he does and that the Gems are working on putting it up. Connie hopes the Gems will be back to say goodbye to her, but Steven tells her that it would take a while.
Connie starts to wonder about her mom, as she was running unexpectedly late. She calls her, but to no avail. Steven tells her to look on the bright side, as they get to spend more time together, and Connie, after a bit of persuasion, reluctantly agrees. The scene cuts to nighttime, as Connie and Steven are seen playing a game similar to Mad Libs, and having noticeably done many other things, such as building a house of cards and playing board games.
Connie is visibly anxious and calls her mom several times as Steven reads the wacky story they have created. Connie stresses about her mom not being there, and Steven offers to give her a ride on Lion. Connie notes that her mom is never late to things and that if she comes and they are gone, she would worry more. So Steven suggests they play another "Weird Word Game". As they play, her words start escalating into a darker place. She takes a deep breath and hears a distant cry. Her mom comes running into the house, and they reconcile. She explains that she had to cover for another doctor and her phone died, suspecting it was one of her patients who stole the charger. She apologizes and thanks Steven, and they leave afterwards.
Steven, now alone, takes a shower and makes dinner for himself. He sits down to eat it but gets distracted by the painting of Rose Quartz. He moves outside to eat instead, and it starts raining lightly, comforting him. However, lightning strikes and the wind picks up, and he is forced to move inside immediately. He looks at his dinner, filled with rain water, then back up at the Rose Quartz painting. He wonders if she is the person she is in the painting, smiling all day and night. He wants to know the real Rose, not the Rose everyone tells him she is.
His gem starts to glow, and the door to Rose's room opens. He greets the room and starts to talk to it as if they are old friends. He then requested that the room let him see his mom. A cloud Rose appears and walks over to a blushing Steven. She says hello, and they shake hands. She asks what he wants to do, and he asks if she likes video games. As they start to play, Steven tells her about the video game at her request and wins. He thinks about what other kids do with their parents, and the room creates a football. They throw and catch for a little bit, and Steven asks her if she likes sports.
She replies, "Steven, all sports are beautiful. Each sport is a unique experience. The adrenaline, the glory, the sheer feats of athleticism. Each one so complicated, and yet, exactly the same." while doing a flip in the air and catching the ball. Using her floating powers, she lands lightly on the ground.
Rose calls Steven over and holds the football with her finger against the ground. Steven starts wondering whether football is what's been missing regarding adolescence. He runs to kick the football, but Rose takes it away at the last second, parodying the famous scene from Peanuts. They both laugh, and then Rose tells him to sit next to her.
Steven admits that he's been thinking of Rose a lot more than usual, of all the stories he's heard about how amazing she is, how kind and loving she was and how every time he looked at the painting of her at the temple he feels inspired and of how much he had to live through. He thought of dyeing his hair pink more than once just to resemble her. Rose says there is nothing wrong with his hair, it's perfect the way it is, wonderful in any way, it's just like himself. Steven rests his head on Rose's leg, commenting how nice the moment is and wishing he had done this a long time ago, but Rose explains that they have been together the whole time. Steven decides to take a photo with his mom on his phone to capture the moment they are having, but since the room is imaginary he realizes there is nothing there but him.
Steven remembers she's not his real mom, she has just been acting the way he wants her to be. He doesn't even know if this is how she really is. He had learned things about her, of how she wants to keep things a secret, like how she locked Bismuth away because of her way of shattering gems, and not telling Pearl or Garnet. Then the time she shattered Pink Diamond, and now all of homeworld has it out for earth, The Crystal Gems and him. Then he started getting angry as he realized she put all of them in danger, and just disappeared. 
Soon the whole room starts to make a storm, as clouds start swarming around, lifting Steven in the air and then plopping him down. Steven now knows the truth, he knows that Rose was a liar. He thought Rose never wanted to hurt anyone, but instead, she hurt everyone. He wonders why she would leave Garnet, Amethyst, Pearl, and even Greg and of how now they don't even know what to do without her, and that they probably didn't matter as much as her hiding from the mess she made. Steven wonders if that is the reason why he is here, just so she wouldn't have to deal with her mistakes.
As Steven spoke, the imaginary Rose talked to him, saying he knows that none of that is true. In the videotape she left for Steven to watch, she told him how much she wanted to have him, and let Steven exist. She asked if everything she said on the tape was a lie. Steven really didn't think so, and knows she really meant it. He then gave Rose a hug as the room started to rain down, understanding that she didn't want him to deal with her problem but, since he now part of her, he has to deal what she left behind. Upon this realization, Rose disappears into clouds.
Steven then exits the room and lays down on the couch. Then Greg and the Gems come inside the house bringing back a pizza. Steven is happy to see them and Greg says they were out of pepperoni so they got mushrooms only and hopes that it is fine. Steven replies that "It's perfect."
Features
Characters
Objects
Locations
Music
Instrumental Songs
Trivia
Steven mentions that he had considered dyeing his hair pink to resemble Rose's on several occasions.
Cameras cannot photograph the inside of Rose's Room; the resulting image only captures real people and objects brought into the room, superimposed over a black void.
The episode's title, besides literally referring to the climax of the episode, is a reference to the phrase 'storm out of the room', an idiom meaning 'to angrily leave the vicinity'.
Cultural References
Steven and Connie play a generic brand of the phrasal template word game Mad Libs to pass the time.
One of the games Steven owns is called Cosmic Engagement, a reference to the real life board game Cosmic Encounter.
Steven's line "You wouldn't believe how many of [the Gems] it takes to screw in a light bulb" is a reference to the popular lightbulb joke, which asks how many people of a particular group is needed to install a lightbulb.
Rose held a football for Steven to kick. When Steven ran to kick it, she pulled it away and he trips and falls flat on his back. This is a reference to the Peanuts franchise.

Colin Howard's promotional art for this episode is also done in Peanuts art style.
Continuity
This episode continues from "The New Crystal Gems".
Rose mentions the videotape she recorded that Steven saw in "Lion 3: Straight to Video".
Connie begins to calm herself down from worrying about her mom by touching her fingertips and taking a deep breath in the same fashion when she formed Stevonnie while with Garnet in "Mindful Education".
Rose makes the same face as Steven in "Giant Woman" when she caught the football.
Lonely Blade makes another appearance, this time as an arm wrestling simulator game.
Greg tells Steven in "Keystone Motel" that he will one day accept pizza of all kind, which Steven does in this episode, where he accepts a pizza with mushrooms on it instead of pepperoni, calling it perfect.
Errors
When Connie calls her mom for the second time, parts of her hand and her phone disappear.
When Steven answers the Mad Libs questionnaire with Connie's answers, he misspells "unexpectedly."
Transcript
View the episode's transcript here.
Gallery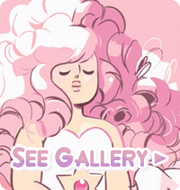 Videos
References