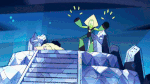 "You have to fix this!"
Sunstone is the fusion between Garnet (and by extension, Ruby and Sapphire) and Steven. They debut in "Change Your Mind".
Appearance
Sunstone appears to live by their name; their head resembles a star, which is what the sun is. They also have bright orange skin with normal orange patches, and two sets of arms: one bulky and muscular with the other slender. The smaller pair can often be seen displaying peace signs or shakas, demonstrating their laid-back nature. They wear a pair of dark red shades, covering their eyes, Steven's t-shirt with the sleeves rolled up, Garnet's gloves at the lower arms, Steven's pants as shorts with a red pocket on the left leg, and a blue pocket on the right leg, and Steven's sandals under scarlet leggings.  
Personality
In many ways, Sunstone resembles a 1980/90s after-school-special cartoon character. They offer self-encouraging platitudes and give helpful advice to children while shouting catchphases like "bungakowa". Overall, they have a chill, laid-back personality even in the heat of battle. Much like Sardonyx, they like to break the fourth wall, encouraging the kids at home not to fight when it can be avoided.
Abilities
Sunstone possesses standard Gem abilities and traits.
Suction Cup Proficiency: By combining Steven's shield and Garnet's gauntlets, Sunstone can wield a pair of suction cups, allowing them to scale up certain objects.
Fusions
When fused with Amethyst and Pearl, they form Obsidian.
Trivia
Like Sardonyx (another fusion involving Garnet), Sunstone shows evidence of being aware of the "fourth wall", briefly turning to the screen and directly talking to the kids in the audience at home.
Sunstone has one blue and one red pocket, presumably a reference to Ruby and Sapphire.
| Image | Description |
| --- | --- |
| | Steven's gemstone on Sunstone, features a pentagonal facet. It is a dodecahedron, specifically a truncated pentagonal dipyramid. It is located on Sunstone's stomach. |
| | Ruby's gemstone on Sunstone, featuring a square facet. It is a decahedron. |
| | Sapphire's gemstone on Sunstone, featuring a triangular facet. It is an octahedron. |
v • e
Fusion Gems
---
Hybrid Fusions
Crystal Gem/Homeworld Gem Fusions

Community content is available under
CC-BY-SA
unless otherwise noted.