She-Hulk Trailer Dropped - The Loop
Play Sound
Level 2 Canon
This page contains content that is considered "level 2 canon" and may be contradicted by the TV series.
This article is about the comic character. You may be looking for the voice actress Susan Egan.
Susan is a songbird that appears in Issue 1 of the 2017 Steven Universe comic series. They are rescued and raised by Steven, Lapis, and Peridot.
Appearance
Susan appears as a regular songbird, with a red back and facial markings, brown wings and tail, and a cream-colored underbelly and crown of head.
History
Susan is found outside of the Barn by Steven after their cheeps are overheard. Since they had fallen out of it, Steven and Lapis try to help Susan find their nest, but this is to no avail. After calling the Empire City Rehabilitation Center and discovering that songbirds are considered a waste of resources there, Susan is left outside the Barn in a basket to see if their mother will come back for them. This does not happen, so Steven, Lapis, and Peridot raise Susan until they are eventually able to fly away with a flock of their species.
Relationships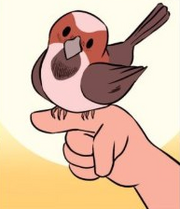 Susan is discovered by Steven in the grass after they fall out of their nest. They seem to like Steven, as they are comfortable enough to rest in his hands and allow him to get within a close proximity. Before leaving with their flock at the end of the comic, Susan lands in Steven's palm and eats a worm while cheeping happily, an action that conveys comfort and trust towards him.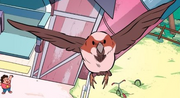 Susan is raised by Lapis alongside Peridot and Steven. They seem to like Lapis, as they are comfortable enough to rest in her hands and be fed by her. Susan learns how to fly from Lapis, which displays the bond they share.
Susan is raised by Peridot alongside Lapis and Steven. They seem to like Peridot less than Steven and Lapis, as they have defecated in her hands and cheeped angrily at her when they were ordered to bring her a rotary drill. However, they are still close enough with Peridot to watch Camp Pining Hearts with her and be held by her, showing that despite their feuds they still like one another.
Trivia
Susan is the second pet to be raised by Lapis and Peridot, with Pumpkin being the first.

She's also the first pet to be owned by them that is not a magical creature, but instead an animal.