Jurassic World: Dominion Dominates Fandom Wikis - The Loop
Play Sound
This article is about the episode. You may be looking for the minigame.
"

♫ I'll do it for him. ♫

"
—Connie

"Sworn to the Sword" is the 6th episode of the second season of Steven Universe, the 58th episode overall, and the first episode in the second StevenBomb.
Official Synopsis
Connie trains with Pearl to be a swordfighter.[2]
Plot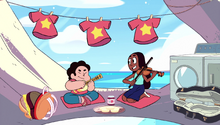 The episode starts with Steven tuning his ukulele while Connie is tuning her violin. They proceed to sing "The Jam Song". Upon finishing the song, Steven spreads some jam on a biscuit. Suddenly, a group of seagulls begins to assault Steven, but Connie scares them away by swinging her violin bow at them. Steven eats his biscuit and praises Connie on being such a good sword-fighter. Flustered, Connie explains that she is not, but that she would love to learn how to use a sword. Steven then comes up with the idea to ask Pearl to train Connie.
Steven brings her to Pearl, who is initially hesitant about teaching someone as young as Connie. Connie passionately explains that she wants to fight alongside Steven and protect the Earth, convincing Pearl, who is overjoyed to the point of tears. She takes them to the Ancient Sky Arena for training and explains the significance of the Arena, which hosted some of the first battles between Gems. She hands Connie a sword whilst explaining the concept of being a knight: compared to Steven (her liege), Connie is nothing more than a protector. Pearl tells Connie to bow to both her and Steven. She then proceeds to summon Holo-Pearl, which spooks Steven and causes him to summon his bubble by reflex. Steven deactivates it and steps to the side for Connie to start. Pearl explains the stance and starts to sing "Do It for Her" while a montage of Connie's training plays. Pearl sings about her dedication to Rose Quartz during the Gem War, relating it to the level of dedication Connie must have for Steven. Throughout the montage, Steven seems to be uncomfortable with Pearl's emphasis on self-denial, and Connie greatly improves her sword-fighting ability.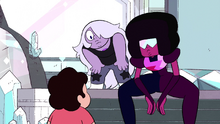 The montage ends, and later in the Beach House, Steven tries to talk to Connie about his discomfort. However, before they can have a discussion, Pearl states they have training to do and warps away with Connie. Amethyst and Garnet emerge from Amethyst's room, and Amethyst asks why Steven is looking so sad. Steven explains he is worried about Connie; Pearl is asking her to do all this dangerous stuff for him. Garnet expresses understanding and explains to Steven how Pearl recklessly risked her life many times for Rose, and that it makes sense that Pearl is training Connie to do the same for Steven. Steven then warps himself to the Arena to try to stop Connie. Before he reaches her, Pearl summons fog over the Arena and they start training.
Steven enters the fog to try and find Connie but stumbles upon a Holo-Pearl. Connie appears and stabs it to save Steven. Steven then saves her from another Holo-Pearl, before convincing her that she does not need to fight alone on his behalf; they can be a team. Four more Holo-Pearls show up and Steven summons both his shield and bubble which deflects their attacks and defeats them. Pearl clears the fog and scolds Steven for interfering. She insists that Connie fight her on her own. Steven and Connie refuse and attack Pearl together. Pearl is surprised at first and they seem to have the upper hand; however, Pearl soon overcomes her surprise, knocking Connie and Steven back.
Steven and Pearl argue; Pearl exclaims that Steven should not be anywhere near a battle – he is just too important to lose. Steven shouts his disagreement and Pearl has a breakdown after mixing up Steven and Rose's names in a heated exchange. She drops her sword and sits dejectedly on the edge of the Sky Arena. Steven apologizes and he and Connie comfort Pearl. After a brief conversation, she calms down and comes around to their viewpoint. Shaking tears from her eyes, she exclaims that they will both make great knights. Pearl hugs both of them as the star-shaped iris closes on a sword laying on the arena floor.
Features
Characters
Objects
Locations
Music
Songs
Instrumental Songs
Trivia
Pearl is revealed to have nephelokinesis as she is able to control the fog around her surroundings during the final time Connie duels with the Holo-Pearls.
The episode was hinted in the promo art with a drawing of Connie's head.

Like how the first StevenBomb started, Stevenbomb 2.0 starts off with this episode that also involves Pearl's and Rose Quartz's relationship, and a sword.

It is the first episode in which Connie sings.
In the StevenBomb 2 promo art, there is a piece of paper that says "Keep your stance wide", which is a line from the song "Do It For Her".
A symbol similar to that on the Gem Warship can be seen on the entrance and inside the Sky Arena. The only two differences being that the shapes that make up the symbols are triangles in the warship and diamonds in the arena, and the pink shape is absent on the warship.

Both symbols have shapes that contain the colors white, yellow, and blue in the same relative locations. The white shape is on top, while the other two are below the white one so that the yellow shape is on the left side of the symbol and the blue one is on the right.

On Keep Beach City Weird, Ronaldo makes a post, mentioning that his blog has not updated in a while because he is been busy with a super-secret project that he plans to release the next day after he finishes editing it.
At the end of the episode, Pearl says, "Oh I'm so excited! I can't wait for the mid-air and underwater dueling exercises, it's going to be boodles of fun!", which is a reference to a podcast here.
This episode debuts a new look for the theme song.
Cultural References
Continuity
Upon seeing Holo-Pearl, Steven backs away, apprehensively. When Holo-Pearl says, "Do you wish to engage in combat?" he unintentionally summons his bubble shield. He appears to be remembering the events of "Steven the Sword Fighter".

Similarly, Pearl makes a nod to the episode during the starting verse of "Do It For Her"; her advice to Connie calls back to the advice she tried to give to Steven in the earlier episode before he grew impatient.

In addition to Holo-Pearl having a new redesign due to Pearl's new look, the new Holo-Pearl has a star on her tunic like Pearl while the first Holo-Pearl had a diamond. She is also revealed to now have a "Level-Zero" setting.
Errors
When Connie goes to put away her violin, the white circles on the top of her dress are missing.
When Garnet appears behind Amethyst's door, she does not have part of her right glove.
When Garnet is about to sit down and talk with Steven, Amethyst's shirt changes back to her pre-regeneration version.
When Pearl gives her final talk to Steven and Connie, she makes a sniffling noise with her mouth rather than her nose.
At a very brief moment in Connie's and Holo-Pearl's second fight, the latter's eyes are not red.
Connie's bandages disappear and reappear throughout the episode.

An example is when Connie and Steven sit with Pearl near the end of the episode.

When Steven and Connie attack Pearl, Steven's teeth are transparent in one frame.
After the end of the song "The Jam Song", the biscuit that Steven is about to put jam on is shown to have jam on it, but that jam is gone when it shows the biscuit in a close-up.
When Pearl shows the hologram of the war (when she sings the line "When everything is chaos"), at first, Pearl is shown to have the sword Connie had, but when defending Rose, she is shown to have her own sword that she used when training Connie.

During the same scene, Pearl's collar disappears after she sees Rose Quartz.

Connie's sword looks different when under Steven's shield compared to other scenes.

This could be due to the refraction of light made by the shield.

When Pearl takes bandages from her gem, she does not have to perform the usual routine that she did in previous cases, such as when she took the mirror and the police tape out of her gem in "Mirror Gem" and "Lars and the Cool Kids", and instead took the bandages out with one motion.
During the time Pearl and Connie were singing, Steven sits on the arena, but during the part of the song where Connie and Pearl kneel down saying "I'll do it for him", he was seated on a duffel bag.
At the beginning of the episode, Steven uses a guitar pick to strum his ukulele. After Connie took her turn to sing, the pick disappears in the next scene. It then reappears in another scene and disappears again at the end of the song.

His ukulele also disappears after the song.

Connie's seen bringing her duffel bag during her second training session. After warping, the bag disappears. It is later seen again a moment after Pearl and Connie finish singing, with Steven sitting on it.
Holo-Pearl holds its sword in its right hand, but after Pearl tells Connie to concentrate, the sword moved to its left hand.
When Steven is reading "How to Talk to People", the table had nothing on it. In the next shot, there is a blender and a book called "Get Fit".

The table also changed colors.
Connie's eye and bandage did not have outlines.
Transcript
View the episode's transcript here.
Gallery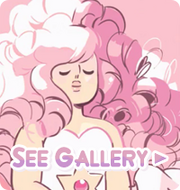 Videos
References