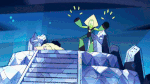 "You have to fix this!"
Template:Music
"The Cave" is a song that played in the episode "Lion 2: The Movie". It played as Steven, Connie, and Lion explored the training temple.
You can find this and more Steven Universe songs on Aivi & Surasshu's Soundcloud page. They also composed "Lion's Ocean", "Lion's Theme", "Dance of Swords", "Dad Museum", and "Drop The Strawberry".