"

I couldn't resist looking into your future. I peeked, and I saw a possibility that our tears would keep you from leaving. [...] But I also saw many paths ahead of you, and we are a part of all of them. Wherever you end up, we will visit you to talk, to listen, to be there – whenever you need us. We love you, Steven.

"
—Garnet
"The Future" is the 20th episode of Steven Universe Future, the 20th episode overall, and the final episode of Steven Universe Future and the Steven Universe story. It is also the fourth and final part of the four-part finale.
Official Synopsis
Steven is finally ready to move on.
Plot
Steven is on the beach doing a workout when Connie and Lion come in. She asks Steven if he wants to do one last routine before he moves out.
Steven and Connie are in Steven's bedroom and are planning Steven's schedule. Connie asks him how everyone took the news about Steven moving out. He basically told everyone in Beach City, and his dad, but he hasn't told the Gems yet. He doesn't have any idea how they are going to take it because the Gems have been so protective of him since his meltdown. He wonders if there's a way he could let them down easy.
Later that day, Garnet, Amethyst, and Pearl return from the Warp Pad and they see Steven waiting for them. He then shows the Gems his homemade Cookie Cats, and the Gems eat some, including Pearl. The Gems reprise the Cookie Cat song Steven sang to them years ago, singing the song themselves (minus the last two lines).
Steven compares his abandonment of everyone else to Cookie Cat, thinking the reason he left was to move forward in life, despite how difficult it was. He then quickly announces to the Gems, with hesitation, that he's decided to move out the next day, and has a plan of how he's able to visit his friends before he can decide where he wants to go and urges the Gems not to talk him out of his decision. However, the Gems seem to take his decision very lightly and are proud of him showing a desire to be independent.  
Steven goes to Little Homeworld, where Bismuth, Lapis, and Peridot do not take the news of Steven's departure so lightly. Bismuth begs him not to leave them, and Lapis tries to assure him that running elsewhere will result in what she went through in her past. Peridot bursts out crying, showing how she doesn't want Steven to leave and that there won't be anyone else like him. To commemorate everything they've been through, Steven hands out gifts for everyone to remember him.  He gives Peridot his old pink shirt, a drawing kit with watercolors for Lapis, and Bismuth gets Rose's Battle Flag since she was one of the very first Crystal Gems. They all hug him while crying, thanking him for all he's done for them, even Steven bursts into tears saying that he loves them, as they reply the same.
Before heading back to pack his things, Steven encounters Jasper, who appears by punching a hole in the wall.  She has heard about him leaving and insists that she's coming with him, but he says to her that he will move on alone, and can protect himself. Jasper punches another hole after saying to Steven "Farewell, my Diamond.", proving that even she is also upset about him leaving.
Steven heads back to the Temple and gives Amethyst his old video games. She is touched at first but appears to be excited to play his games, which isn't what Steven was expecting. He then goes outside to give Pearl his old ukulele, and she nonchalantly stores it in her gemstone. Steven says it's okay for Pearl to be sad, but she replies that him leaving is a positive thing as he's going to explore new places.
Steven holds back his tears as he goes to visit Garnet, giving her the same wedding plan book he used to plan Ruby and Sapphire's wedding, in the hopes that Garnet can eventually help Steven plan his own wedding when the time should come. As she takes it, not showing a lot of emotion, Steven tries to reason with her about how she should feel about his leaving, but Garnet reassures him that he'll be fine. She says that even with her future vision, it's up to him to figure out what to do when he leaves. As she warps away, he begins to cry.
Steven has all of his things packed up, but he's a little upset over the fact that though the Gems know he's leaving, he didn't get the reaction he was expecting. Greg tells him that they still love him, and are probably trying to be supportive. Steven's gift to Greg is his old room and a wall poster of Kerry Moonbeam, stating that he is now able to move in with the Gems. Laying down on the bed, Greg appreciates this gift, stating how he finally getting some well-deserved rest, and Steven departing is similar to his own childhood.
Outside the Temple, Steven says his goodbyes to Connie and Greg, heading for the bed and breakfast, with Connie reminding him to give her a text so he doesn't forget to have breakfast with her. Afterwards, he says goodbye to the Gems, who are still smiling their happy faces, and each of them gives Steven a goodbye hug.
As Steven heads off in the Dondai, driving off to his next destination, he looks at his mirror, watching his family and Connie waving goodbye to him until he can't see them anymore. He then halts the car and quickly drives it in reverse to where the Gems are, and bursts into tears, asking why the Gems are taking the situation so lightly. However, the Gems revealed that they were holding back their tears, and are extremely sad about Steven leaving.
They all come crying together for a group hug and said they didn't want their sad thoughts to interfere with him leaving, but whatever happens in his future, they're a part of it too. Everyone stating they love each other, they give Steven one more goodbye, and he leaves his old home to a new path in his future. Steven passes by the Big Donut, where everyone waves goodbye to him as he leaves Beach City, beginning his road trip, ending the episode, the season, and Steven Universe Future.
Features
Characters
Objects
Steven's hoodie
A 142-piece art box
Cookie Cats (Steven's version)
Locations
Delmarva
Providence Island (mentioned)
Kansas (indirectly mentioned)

University of Jayhawk (indirectly mentioned)
Music
Songs
Instrumental
Trivia
Rebecca Sugar confirmed on Twitter that this episode is the last part of the Steven Universe story. She will not consider anything that may follow to be canonical.
This is the first time Steven and Connie are shown kissing.
This is the first time Pearl is shown eating.
The Cheeseburger Backpack is seen with Onion as he waves goodbye to Steven.
In the end while everyone's saying goodbye to Steven while "Being Human" plays, we can see Pumpkin running through town, followed by a sentient gourd and a sentient squash.
Cultural References
While planning Steven's and Connie's itineraries, Connie mentions Boogle Maps, a spoof of Google Maps. 
Amethyst references what saving N64 games is like.

She even questions "Why does it only have one save slot?" which was a common complaint regarding classic Nintendo games.
Continuity
Errors
In the crowd bidding Steven farewell, Peedee has a bowtie in long shots which is missing in closeup.
As Onion turns in the crowd to look at Steven's car, he is drawn with ears.
Videos
Transcript
View the episode's transcript here.
Gallery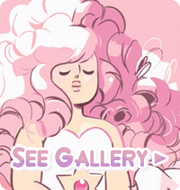 Community content is available under
CC-BY-SA
unless otherwise noted.