Level 2 Canon
This page contains content that is considered "level 2 canon" and may be contradicted by the TV series.
The Perils of Pweepwee is a game for the Grintendo System that once belonged to Greg Universe. It houses a corrupted Gem that can magically bring the game's enemies to life.
Appearance
It is a gray game cartridge that is rectangular in shape. It has cyan and red markings on the front and an orange-yellow gemstone embedded on its surface. It has a striking resemblance to a Zircon gemstone.
Gameplay

You play as the character Pweepwee: a blue creature that battles enemies known as Sudsies. Sudsies constantly respawn until the player cuts the power to their base.
History
Steven brings his dad a box of things including Greg's old Grintendo game system. Greg starts to play The Perils of Pweepwee, but Steven can't play since he is grounded from television, so Greg lets him leave with the instruction booklet. Outside of It's a Wash, Steven encounters the Sudsies that suddenly pop into existence. He follows the instruction booklet to defeat them, which he accomplishes by cutting the power to the car wash. With Greg distracted by the outage, Steven can sneak back in and get a look at the game cartridge. He finds a corrupted gemstone embedded in it and bubbles it.
Trivia
| | |
| --- | --- |
| Image | Description |
| | The gemstone is located on the surface of the game cartridge. |
v • e
Comic Gems

Steven Universe (2014-2015)
Steven Universe (2017-2018)
Steven Universe: Too Cool for School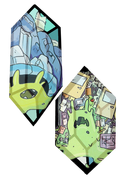 Community content is available under
CC-BY-SA
unless otherwise noted.