The Rebellion, or the Gem War, was an event that occurred approximately 5,500 years ago, as confirmed by "The Guide to the Crystal Gems", when the Crystal Gems rebelled against the Gem Homeworld to protect Earth.
History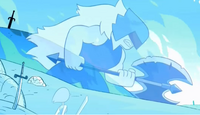 In "Rose's Scabbard", they visit an ancient Gem Battlefield, where Pearl says a battle was fought over 5,000 years ago, Garnet describes the battle as a maelstrom of death and destruction, saying that countless Gems were broken. In "Sworn to the Sword" Pearl later reveals that some of the first battles for Earth happened in the Ancient Sky Arena. She also stated in "On the Run" that the Homeworld Gems wanted to do something bad to the Earth, and some Gems such as herself, Garnet and Rose Quartz found their proposals unfair to the life already existent on the Earth. They rebelled against them, and the historic battle happened with Rose Quartz leading her own armies of Crystal Gems, fighting against the Gem Homeworld.
Greg also is shown to know about the war; he states in "The Return" that in the war, Rose could only use her shield to save a handful of her closest friends, and that many Gems and people died during the conflict. In this episode, Jasper also stated she was present during the war for Earth, and that she fought against Rose's armies.[1]
The battlefield was first shown in "Serious Steven", and the events of the Rebellion are most likely recorded on the walls of the Pyramid Temple, as one can see a carving of Rose fighting against an unknown Gem.
Trivia
References