m

m

Tags: apiedit, Visual edit

Line 111:
Line 111:
 

*When Garnet falls backwards after being hit with the [[Gem Destabilizer]], most of her facial features do not appear to be present for a few seconds. They then re-appear in the final shot before her 'Death' shot when she looks back at Steven.

 

*When Garnet falls backwards after being hit with the [[Gem Destabilizer]], most of her facial features do not appear to be present for a few seconds. They then re-appear in the final shot before her 'Death' shot when she looks back at Steven.

 

*After Garnet was hit by the [[Gem Destabilizer]], her glasses crack. In the next shot, her glasses aren't there. But we could assume that as they aren't part of Garnet's actual body, that they have already been destroyed.

 

*After Garnet was hit by the [[Gem Destabilizer]], her glasses crack. In the next shot, her glasses aren't there. But we could assume that as they aren't part of Garnet's actual body, that they have already been destroyed.

 
+

*When Garnet talks to Steven after giving him the megaphone, Ruby's gem appeared instead of Sapphire's gem.

 
 
 

==Transcript==

 

==Transcript==
---
Revision as of 01:25, 2 June 2015
"

Your base is taken, your armies are ruined, you have failed!

"
—Jasper
"The Return" is the 48th episode of the first season in Steven Universe, and the 48th episode overall.
Synopsis
A new threat arrives in Beach City. 
Plot
After getting his usual fry bits by Peedee, Steven talks to his dad, Greg, about the Crystal Gems countering against Peridot's robonoids on Earth. Suddenly, they, as well as the rest of Beach City, see a strange object in the sky: a giant green hand pointing directly at them.
The Crystal Gems believe that Peridot has finally arrived and, with Steven, use the light cannons against the ship. However, they have no effect against it. Anticipating an all-out battle, Steven calls Mayor Dewey to help evacuate the town. To his surprise, he is told by the Gems to join his dad and the rest of the people, being the voice for them and protect them like his mother did.
Leaving the town, Steven hopes that Peridot will leave them alone once she sees what the Earthlings are like, but Greg has doubts. He then accidentally blurts out that he saw other Gems invade earth the first time. Unable to hold in the truth any longer, he tells Steven that his mother, Rose Quartz, rebelled because of "something awful" her kind was doing to the planet. He goes on to say that many lives were lost in the battle, Gems and people alike, and, because of her shield, she was only able to save a handful of her closest friends and drive the rest of the invaders from Earth. Steven begs his dad to turn around so he can help the others, but accidentally triggers an air bag system in the van and launches himself out while in his bubble shield. He then asks Greg to keep the evacuees safe while he finds a way back to Beach City. Lion arrives to help him do just that. On his way, he leaves a voice message to Connie's house.
They both meet up with the Crystal Gems, with Amethyst and Pearl fused as Opal in a futile attempt to shoot down the ship. As it finally lands, they see three other Gems emerge: Peridot, Lapis Lazuli, who had been dragged with them, and a large Gem named Jasper, who has a grudge against Rose. Jasper is not impressed with what she sees and orders Peridot to destroy them using lasers from the ship. The Crystal Gems beg Steven to leave, but he refuses, saying he is a Crystal Gem, too. He then jumps in front of them and shields them from the blast.
Jasper is shocked to find Steven bearing the same Gem power as Rose, but mistakes him for his mother. Shortly afterward Steven collapses from exhaustion of creating such a large shield. She decides to take him to Yellow Diamond before she sees Garnet rushing in to attack. Garnet is countered by Jasper's helmet before being seemingly destroyed by a Gem Destabilizer, leaving two dormant gems in the aftermath; one red and one blue.
Jasper declares her victory as she subdues the rest of the team, starting with Steven. She headbutts Steven as the screen blacks out due to Steven being knocked unconscious.
Features
Characters
Cameos & Mentions
Cameos:
Mentions:
Objects
Locations
Production Notes
Music
Soundtracks
Trivia
Continuity
Errors
Transcript
View the episode's transcript here.
Gallery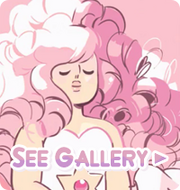 Videos
References
Community content is available under
CC-BY-SA
unless otherwise noted.