Jurassic World: Dominion Dominates Fandom Wikis - The Loop
Play Sound
"

E-everyone here, gets that. Urggh! You don't know what it's like having Pearl and Garnet on your back all the time!

"
—Amethyst
"Tiger Millionaire" is the 9th episode of the first season in Steven Universe, and the 9th episode of the series overall.
Official Synopsis
Steven joins Amethyst in an underground wrestling league.[2]
Plot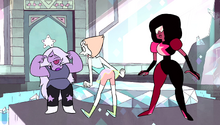 The episode begins with the Gems returning to the temple. Pearl is seen yelling at Amethyst for being too "childish" on their mission. Steven is covered in gunk from a blood polyp, which he considers fun at first, but it eventually hardens and prevents him from moving. He then asks for help, but the others are busy arguing and ignores him for the rest of the evening. Later, Steven remains covered in the gunk overnight, and he falls asleep standing in the kitchen. He is woken up when Amethyst leaves the house. He falls over with surprise, breaking the blood polyp shell and setting himself free.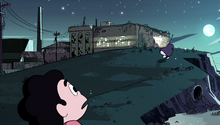 Steven follows Amethyst from the house to a wrestling match. He looks through the window and sees Amethyst enter the ring, shape-shifting into her wrestling persona, the "Purple Puma". Ronaldo meets Amethyst in the ring dressed as the "Loch Ness Bloggster" and attempts to fight her, but she takes him down without much effort. After the fight ends, Amethyst leaves the building and returns to her previous form. Steven jumps on Amethyst, and Amethyst reflexively flips him forward onto the ground. She is shocked to see Steven there, and Steven asks if she's secretly a wrestler.
Amethyst reveals that she is indeed a secret wrestler, and this excites Steven. She tells him that she participates in matches because in the ring, she can do whatever she wants and everybody loves it. Steven asks if he can join in, and she says that he can become her tag-mate if he agrees not to tell Pearl and Garnet. Later that night, Steven dresses up as a tiger and calls himself "Tiger Millionaire". He and Amethyst return to the match and fight a new contender. At first, Steven is of little help to Amethyst in the matches. But after he distracts an opponent with a fake bribery and uses his suitcase to knock him out, Steven becomes a strong asset to her and a popular heel.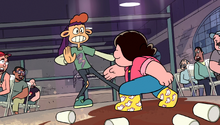 After dozens of victories, Steven drops several drinks on the floor meant for the crowd. Lars, without knowing Tiger Millionaire's true identity, asks him to sign his drink. Steven knocks his drink to the floor, hurting Lars' feelings. Immediately afterward, Steven begins to regret his decision as the crowd looks on, disappointed.
Garnet and Pearl discover Amethyst and Steven's night-time occupation when they find the flyers Steven created to advertise the final match. After Amethyst scolds them for ruining her wrestling, Garnet demands her and Steven to return to the temple. Amethyst refuses, and she begins fighting Garnet. Steven interrupts and tells the crowd Purple Puma's "backstory", helping Garnet and Pearl understand Amethyst's reasons for wrestling. The audience begins chanting for a fight between the two groups. Garnet replies "no", saying she and Pearl are "The Notorious Order of Wrestling Haters". The four pretend to fight in order to please the crowd; Garnet and Pearl let Tiger and Puma win, ending the match. Garnet, who has been dubbed as "Captain Square", and Amethyst apologize to each other. Steven and Amethyst claim the tag team medals while Sadie states that she is confused by what just happened and turns to Lars, who softly states, "I love you, Tiger Millionaire", while dramatically shedding a tear.
Features
Characters
Objects
Locations
Music
Instrumental Songs
Trivia
Steven's voice actor, Zach Callison, stated in a San Diego Comic-Con interview that this is his favorite episode of season one.
The poster of Steven and Amethyst was drawn by Nick DeMayo 's daughter, according to Steven Universe: Art and Origins.
This is one of the first episodes to hint at the fact that Sadie had feelings for Lars: after he becomes a fan of Tiger Millionaire, she appears to have gotten bored of wrestling after attending multiple matches and only smiles when she sees Lars happy.
Cultural References
The character of Tiger Millionaire has many subtle references to real-world professional wrestling. The name of the episode might be also a reference to a YouTube video named Namer Hakesef (in translation from Hebrew: The tiger of money). Also Steven called Esteban in this episode that may refer to Esteban Himenez, the alter ego of The tiger of Money.
Continuity
Errors
Note: Time is displayed in [mm:ss]; [00:00] refers to the point after the title card is displayed and before the episode's start.
Plot
[03:55] Throughout the match, Lars is seated next to Sadie and behind a dark-skinned man with a beard and sunglasses. However, in [04:41], when Steven offers the bribe to Chunk Truck, Lars is seated between a man and a red-haired woman.
Design
[03:29] When Amethyst says "Pumas are cool", her gem is missing.
[TBA] When Pearl announces that she and Garnet were not there to fight, the middle finger part of Garnet's left glove is not colored in.
Transcript
View the episode's transcript here.
Gallery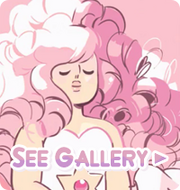 Videos
References