Jurassic World: Dominion Dominates Fandom Wikis - The Loop
Play Sound
"

I'm sorry. This was our thing we did together, and I just quit on you.

"
—Amethyst
"Tiger Philanthropist" is the 19th episode of the fourth season of Steven Universe and the 122nd episode overall.
Official Synopsis
Steven returns to the ring to continue his pro wrestling odyssey.[3]
Plot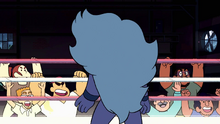 The episode begins at the Abandoned Warehouse where Amethyst and Steven are in the middle of an underground wrestling match, using their identities as the Purple Puma and Tiger Millionaire respectively. Harold Smiley acts as emcee while an excited audience observes the fight, in which the Jungle Duo team is facing a wrestler named Shark-O-Mania, headed for victory. They finally finish off their opponent with a move called "Purple Millionaire Kick," to the cheer of the crowd. Watching them, Lars shouts that they should never stop, and Mr. Smiley expresses admiration of the team's dedication to teamwork and friendship. However, to everyone's great shock, including Steven, Purple Puma grabs the microphone and announces her intention to quit wrestling for good, taking off the Tag Team Belt they had won in a match previously. She exits the warehouse while the audience boos, and Lars, greatly disappointed, tells Purple Puma and Tiger Millionaire not to just quit so abruptly.
Back outside, Amethyst shapeshifts to her normal form, seemingly relieved. Steven asks if she really meant what she said in the ring, and Amethyst answers that she found the match boring and that they do not need wrestling to have fun anymore. Amethyst starts back to the Beach House to get something to eat, while Steven looks at the Tag Team Belt with a guilty expression.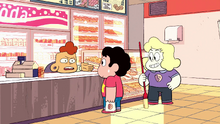 The next day, Steven enters the Big Donut and greets Sadie and Lars, asking for the donut special. Lars is in a depressed state after hearing that Tiger Millionaire will never return to wrestling, and wonders out loud why he would want to quit at the height of his career. Sadie encourages him to ask Steven about it, hinting that she knows Steven and Tiger Millionaire are the same person, but Lars dismisses this as an inaccurate theory and states that Tiger Millionaire is "ripped" and "seven feet tall." Steven replies that he heard Tiger Millionaire quit because Purple Puma did, but Lars says there was no reason for both of them to stop at the same time and grumbles that Tiger Millionaire owed it to his fans to consider staying on the scene. After Steven has exited the store, Sadie tells Lars once again that she is sure he really is Tiger Millionaire.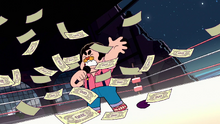 During the night, Mr. Smiley is emceeing another wrestling match and tries to make the audience enthusiastic about two new champions, called the "Wolves of Wall Street," despite the earlier letdown. Seeing that the wrestlers have imitated the Jungle Duo's concept with animal-themed attire, one of them wearing clothes that closely resemble Tiger Millionaire's and carrying a suitcase with a dollar sign on it, Lars bitterly deems them a ripoff. The fight is interrupted when the doors of the warehouse are slammed open by a mysterious hooded figure, who jumps into the ring and discards his shawl. Steven, dressed in Tiger Millionaire's outfit, announces that his old persona is indeed gone forever since he realized money did not make him happy and he will instead start giving it away freely, now going by the name "Tiger Philanthropist." To showcase this, he throws several stacks of bills into the air and drops his tie with the dollar sign on it. Introducing himself as a solo wrestler, Tiger Philanthropist challenges the Wolves of Wall Street and defeats them without trouble. Shark-O-Mania makes a surprise return with a new partner called the Sea Wasp. Out of habit, Steven tells Amethyst to take care of the new opponents, before remembering that she is no longer there. Despite this, he is able to easily overpower the team and impresses all the observers besides Lars.
Steven returns to the Big Donut, wanting to hear Lars' opinion of the previous night's match. To his surprise, he discovers that Lars found Tiger Millionaire's new identity "lame" and out of character, referring to it as "the sequel no one asked for." Steven is confused about what angle Lars would like for the persona, and Lars is unable to give a clear answer, angrily telling Steven to get out of the store and stop inquiring him about his personal life and opinions.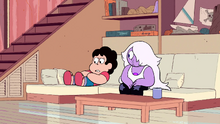 Later, Steven sits with Amethyst on the couch of the Beach House and asks himself why he even bothers to keep wrestling, since he is only doing it for Lars, who does not seem to care much anyway. He tells Amethyst that he liked wrestling better when it was for her sake. She replies that she used to need wrestling due to her past feelings of inadequacy, but now that she is over those (indirectly referencing the events of "Beta" and "Earthlings"), it has lost its meaning for her. When asked if he feels he is not good enough, Steven says that was never the point and that he simply liked having his own thing to do together with Amethyst. He decides that wrestling no longer makes sense to him either and that he should announce his retirement just like Amethyst did, leaving the house. Amethyst stays, looking somewhat concerned.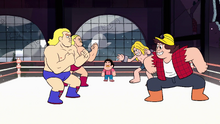 At the wrestling arena, Mr. Smiley explains to the spectators that this is a special occasion, allowing Tiger Philanthropist to speak for himself. Lars is immediately skeptical. Steven claims that tonight will mark his final act of philanthropy, as he will hand over the Tag Team Belt to whoever manages to earn it. Everyone boos, including Lars, and when Steven responds that their reactions do not bother him and that he never cared for the belts in the first place, the scorn only increases. The first team, the Brothers Construction, enter the ring to compete for the titles, and Mr. Smiley laments that Tiger Philanthropist will not even put up a fight. They are soon followed by the Good-Looking Gang, who prepare to challenge the team to see who wins the honor.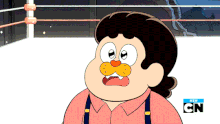 Suddenly, the match is intercepted by Purple Puma, who confronts Tiger Philanthropist and tells him off for trying to give away their memories so easily despite how much the times they wrestled together had mattered to her. She grabs Steven and pulls him into a hug, which pleases the crowd. Amethyst apologizes to Steven for just quitting without warning, but he simply agrees that wrestling has no point for them anymore. The two decide to go out "with a bang." Immediately, their four opponents start making new attempts to challenge the Jungle Duo for the Tag Team Belt, with Shark-O-Mania returning once more. Steven and Amethyst willingly allow themselves to be crushed, and when Tiger Philanthropist is struck to the ground, Lars is distressed. He clings to the ring ropes in desperation, his sudden over-investment leading to guards taking him away. Purple Puma and Tiger Millionaire tell the Good-Looking Gang to finish them off, and they quietly nod in agreement. After kicking the duo to the ground, Handsome Hank Hackleschmidt and Dashing Danny Doober claim the Tag Team Belt for themselves and become the new champions while Steven and Amethyst lie still in the ring, pleased with the outcome. Meanwhile, Lars is forcefully carried out of the warehouse, loudly protesting about Tiger Millionaire quitting just as the match was starting to get good.
Features
Characters
Rose Quartz (pictured)
The Wolves of Wall Street
Brothers Construction
Good-Looking Gang
Objects
Locations
Music
Instrumental Songs
Trivia
This episode's name was revealed in the episode listing on the Cartoon Network website.[4]
This is the first episode to dip below a million viewers.
A blog post on Keep Beach City Weird was written for this episode, but it was not posted because it was deemed "too inside" because of its use of professional wrestling jargon and references.[5]
Cultural References
"The Wolves of Wall Street" may be a reference to either The Wolf of Wall Street, a memoir written by American stockbroker Jordan Belfort, its 2013 film adaptation, or the horror film Wolves of Wall Street.
The Brothers Construction, the Good-Looking Gang, and the Purple Puma are shown to have their own entrance music themes, which are used in real-life professional wrestling to announce the arrival of specific wrestlers. Entrance themes tend to be in line with the wrestler's personal gimmick, which also applies here as the Brothers Construction have an industrial theme featuring metallic, hammer-like sound effects, the Good-Looking Gang have a romantic jazz theme accompanied by them blowing kisses to the audience, and the Purple Puma's theme is a loud growl.
Continuity
Steven and Amethyst return as tag team wrestlers, first seen in "Tiger Millionaire".
The way Mr. Smiley reacts to Purple Puma's mic drop is very similar to Greg in "We Need to Talk" after thoughtlessly doing one himself, as both complain that microphones are expensive and therefore should be handled with care.
Sadie still believes that Steven is Tiger Millionaire, as she did in "Tiger Millionaire".

Conversely, Lars still does not think Tiger Millionaire is Steven.

Steven runs hooded to the arena, similar to how Amethyst did in "Tiger Millionaire".
Following the events of "Earthlings" and subsequent episodes in which Amethyst learned to accept her shortcomings and realize her personal value as a Crystal Gem, Amethyst displays improved confidence and declares to Steven that she no longer has a need for wrestling as an outlet.
Amethyst is once again seen holding a teacup and swallowing the tea bag, as she did previously in "Onion Friend" and "Three Gems and a Baby".
Errors
After Tiger Millionaire makes a surprise appearance at the wrestling match and drops his tie, his suitcase disappears.
When Steven removes his shawl to reveal himself to the crowd, he drops it behind him, but it is absent in the next shot.
As Billy Bank Assets falls to the floor after being elbowed, Mr. Smiley can be heard talking, but his mouth does not move.
Once Shark-O-Mania and Sea Wasp have jumped into the ring, there is no trace of the defeated Wolves of Wall Street or the "jungle bucks" that Steven dropped.
During Amethyst and Steven's conversation at the Beach House, money or paper and glass are shown on the table, but when Amethyst puts down her mug they are gone.
The tear on the right knee of Lars' pants vanishes in the scene where he yells to complain about Tiger Philanthropist giving away the tag team titles.
When Amethyst hugs Steven, her left eye is missing.
Transcript
View the episode's transcript here.
Gallery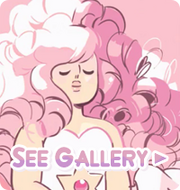 Videos
References