Ancient History
Over 6000 years ago
6000 years ago
Over 5000 years ago
Unknown Time Period
The Galaxy Warp goes inactive.
The Crystal Temple is constructed.
Ruby and Sapphire decide to stay fused as Garnet.
Amethyst is discovered at the Kindergarten and joins the Crystal Gems.
19th century
"Nearly 200 years ago", Captain William Dewey and his crew are attacked by a gem monster and rescued by the Crystal Gems. Dewey goes on to found Beach City.[3]
In the summer of 1862, William Buford Buchanan, Beach City's most notorious arsonist, sets a record 335 fires. He drowns after diving into the ocean trying to evade police.[4]
Recent History
Present Events
1st Year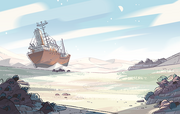 2nd Year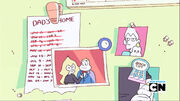 In Onion Friend, there's a schedule showing when Yellowtail will be home. Based on the crossed out dates on the chart, Onion Friend takes place at some point in June, before Yellowtail's expected return on the 25th.
Level 2 Canon
Non-Canon
Notes
References
Community content is available under
CC-BY-SA
unless otherwise noted.