Ancient History
4900 B.C.
Around 3900 B.C.
2900 B.C.
Unknown Time Period
The Galaxy Warp goes inactive.
The Crystal Temple is constructed.
Ruby and Sapphire have decided to stay fused as Garnet.
Amethyst was discovered at the Kindergarten and joins the Crystal Gems.
Lapis is trapped in the mirror.
1800s
"Nearly 200 years ago", Captain William Dewey and his crew are attacked by a gem monster and rescued by the Crystal Gems. Dewey goes on to found Beach City.[3]
In the summer of 1862, William Buford Buchanan, Beach City's most notorious arsonist, sets a record 335 fires. He drowns after diving into the ocean trying to evade police.[4]
1900s
In 1937, the Beach City Gremlin supposedly caused the Beach City Blimp Explosion.[5]
Recent History
Present Events
Year 1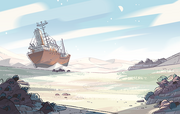 Year 2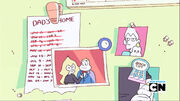 Level 2 Canon
Non-Canon
Notes
References
Community content is available under
CC-BY-SA
unless otherwise noted.