Doctor Strange in The Multiverse o Madness - The Loop
Play Sound
"

Your soulmate is your complement, not your missing piece.

"
—Garnet
"Together Forever" is the 13th episode of Steven Universe Future.
Official Synopsis
Connie has a very clear vision of her future and Steven wants to make sure he's a part of it.[2]
Plot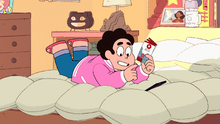 The episode starts with Steven and Connie talking on the phone about her future plans for college at the University of Jayhawk. When they end the call due to her study break ending, he looks at the brochure. Noticing how far Connie's college is from Beach City, Steven turns pink over the thought of Connie moving far away and sinks lower in his bed.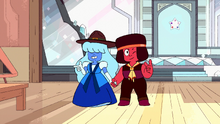 As Steven heads downstairs, he notices Garnet is about to leave. When he asks for some advice, she suggests that he reaches out to him later, when she unfuses. Sapphire has to attend a meeting with other Gems, and Ruby works as a camp supervisor, but she's more than welcome to let Steven join her.
While Ruby assigns her scouts to sketch the beauty of nature, Steven talks to her about his future. He laments that Connie knows what she wants to do with her future, but he has no clue about his future yet. He hints when they fuse into Stevonnie, he has a clear perspective of what to do, but not on his own. He states how he wants to be with Connie, as Ruby and Sapphire stay together until he comes to the presumption that Connie is the answer to his future. An ecstatic Ruby gives Steven the idea to propose to Connie, but he doesn't think he's ready for that moment yet, despite having the thought about it. Ruby still thinks he should go for the idea, as it worked out for her, and if he doesn't believe her, she suggests he talks to Sapphire about it.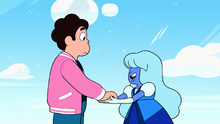 Meanwhile, Sapphire is out on the beach teaching her Gem students about alternate timelines, until Steven calls out to her. Asking for her help, Sapphire draws a formula of the probability of Steven successfully proposing to Connie, much to his confusion. A wave washes away the equation she made in the sand, which proves her point. When Ruby proposed to her, she couldn't see it coming, even with her future vision, and led her to a new realm of possibilities. She believes the same will work for Steven, and also encourages him to go through with the proposal. Steven announces that he is going to propose to Connie, and everyone applauds for him.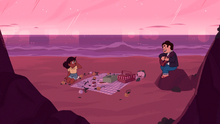 Steven prepares himself for a picnic with Connie; in doing so, he buys a cake that says "Together Forever," flowers from Crazy Lace Agate, and also make a new glowing bracelet with a glowstick to use as a ring (similar to Connie's old one that resides in her room currently). Wearing a tuxedo top, he heads over to Connie's house with Lion, asking if she wants to go for a walk with him during her next fifteen-minute study break. They warp to and then walk on the beach, talking about the events of "Bubble Buddies" of their first official encounter together. And to Connie's surprise, Steven offers her a picnic, on the same spot of the beach where they first met. Steven sings her a song, "I'd Rather Be Me (With You)," explaining that wherever she goes, and whatever she does, he wants to do with her.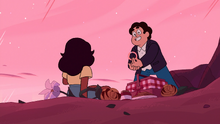 Connie is touched by the song until she notices Steven kneeling and holding a glow bracelet as a ring, and he proposes that she marry him and they live the rest of their lives as Stevonnie. Connie is shocked, but then laughs a bit as she suggests that they talk about it first, but he has the idea of how their future can work out: if Connie knows what she studies in college, Stevonnie will too, and therefore, they can both go to college together. Connie points out that Steven may be rushing things, as they are still far too young to get married, and she also wants to be her own person. She walks up to Steven and hugs him, and instead of saying no to his response, she replies with a "not now," and assures him that they have plenty of time before they take such a huge step. Connie's alarm goes off, notifying her that her break has ended, but she insists that she cares more about spending more time with Steven right now. Steven, however, insists that she return to studying as he believes it's more important than how he currently feels. Connie promises to call him the following day during lunch and leaves on Lion after saying goodbye.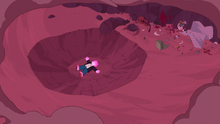 Once alone, a heartbroken Steven falls on his back, turning into his pink form again, and sinks into the ground in an explosion that wrecks the picnic, leaving him in a crater. After spending the entire afternoon in the crater, Steven gets up with tears in his eyes and notices Garnet sitting right next to where he was, with the picnic blanket.
As they walk back home, Steven doesn't understand how Ruby and Sapphire's example worked for him, but Garnet explained that getting advice from them was most likely a bad idea and that him proposing to Connie was inevitable. She says that a soulmate is something that he can add to his future, but it will not make it complete. Frustrated, Steven blames Garnet for being an example of a "perfect relationship," and insists that eating the cake he brought would make him feel better. Noticing that it's in pieces, Garnet concludes that it really won't, and the episode ends with him tearfully eating it regardless.
Features
Characters
Objects
Locations
Earth
Space (indirectly mentioned)

Universe (indirectly mentioned)

Distant Galaxy (mentioned)
Music
Songs
Instrumentals
Trivia
This is the first time Ruby and Sapphire appear in their new forms after their regeneration in "Change Your Mind."

Additionally, their dialogue seems to imply Garnet unfuses more often in present time due to the individual jobs they now have.

This is the sixth time the word "together" was used in an episode title, with the first five times being "Together Breakfast," "Alone Together," "Stuck Together," "Keeping It Together," and "Together Alone."

The fact that the title has "together" in it is also referencing to the fact that this is a Connie and Steven-focused episode, just as "Alone Together" and "Together Alone" were (which both had major Stevonnie appearances).

When Ruby holds the "Proposal Badge," it shows two figure that are wearing the same outfits that Steven and Connie wear later in the episode, symbolizing both of them.
Cultural References
Continuity
Connie wants to study either political science or sociology, both being political subjects. This could be a reference to Steven's comment in "Steven's Birthday": "When Connie grows up and becomes president, what is that gonna make me? First Boy!?"

This quote also implied that he wanted to marry her, and he then proposes later on in this episode.

Steven and Connie's picnic is at the same area on the beach where they first met during "Bubble Buddies."

They also recall the events of the episode, specifically Steven falling off his bike while trying to get her attention and then running away screaming.

Steven jokingly calls himself "Steven Quartz Cutie-Pie DeMayo Diamond Universe," with each "middle name" referencing the events of past episodes.

His actual name is "Steven Quartz Universe."
"Cutie-Pie" – references a line from Garnet in the episode "Future Vision." In that episode, Steven says, "Danger is my middle name," while Garnet quips, "That's a lie. Your middle name is cutie-pie."
"DeMayo" – Greg's family's last name was revealed to be "DeMayo" in "Gem Harvest," as Greg changed his last name to "Universe" in his young adulthood.
"Diamond" – references the fact that Rose Quartz is actually Pink Diamond, given that his middle name is already "Quartz."
The song title and lyrics "I'd Rather Be Me (With You)" echoes Ruby's wedding vow ("I wanna be me, with you") to Sapphire in "Reunited." Additionally, the lyrics "I'd rather be tall, I'd rather smart" echo Greg's love song "Let Me Drive My Van (into Your Heart)" through the beginning lyrics of "I know I'm not that tall, I know I'm not that smart."
Errors
As Blue Lace Agate gives a thumbs up to Steven, her middle horn changes color.
When Steven buys flowers for his picnic with Connie, Crazy Lace Agate's "eye" gemstone blinks.
When Garnet pulls Steven to her, Sapphire's ring is brass instead of silver.
Videos
Transcript
View the episode's transcript here.
Gallery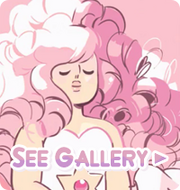 References