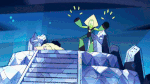 "You have to fix this!"
Topaz and Topaz are Homeworld Gems who made their debut in "Are You My Dad?" as a fusion. They were sent to Earth with Aquamarine to retrieve human "variations" for Yellow Diamond.
Description
One Topaz has her gem on the left side of her head, and the other has her gem on the right side. When fused, their gem is on each side of their head.
Topaz yields a mace from their gem, however, their primary form of attack is engulfing humans in their fusion. The Topaz gems never speak.
Personality
Topaz is a quiet massive quartz soldier as she have never speak so far in the show. She is very aggressive and careless about humans as she was about to eliminate Jamie in order for the crystal gems to tell them where is My Dad.
Gallery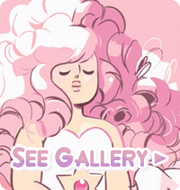 Community content is available under
CC-BY-SA
unless otherwise noted.