Doctor Strange in The Multiverse o Madness - The Loop
Play Sound
"Unboxing" is a Steven Universe short that first aired on Cartoon Network. It is done in the style of an unboxing video, featuring Steven reviewing a novelty hot dog bag.
Synopsis
Steven records an "unboxing" video of his new Hot Dog Duffel Bag, and continues doing so even when the Crystal Gems get into a fight with a monster just off-camera.
Plot
A screen full of static appears for a second, and Steven appears. He focuses the camera, and then introduces himself. Steven tells the viewers that this is his first unboxing video, and explains how he is a fan of novelty backpacks, showing his Cheeseburger Backpack. Bringing the backpack closer to the screen, the viewers can see that it has become slightly dirtier than before, Steven explaining that it is dirty because he loves it so much. Steven comes back to the topic and says that he bought a new bag. He invites the viewer to take a look, "together!" The star iris closes onto Steven's face, and reopens on the door. Steven opens the door, and says the package should be there any second. We see Jamie standing, his back facing the camera. There is a pause, and Jamie asks if the camera is ready, after which Steven replies "yeah" Jamie takes a deep breath, turns around, and says "special delivery" in a narrative voice, tilting his sunglasses. The box he holds has the Wacky Sacks brand name. Jamie then asks if he can get a copy of the video for his reel. Static appears again for a split second.
The next scene shows the Wacky Sacks box. Steven hums an upbeat tune while cutting the box's tape with a pair of scissors. Steven opens the box, revealing a bag that resembles a giant hot dog. Steven is very excited, stating "It's the highly anticipated Hot Dog Duffel Bag!" Steven then proceeds to tell the viewers that this is a highly momentous occasion, because the hot dog bag is Wacky Sack's first duffel bag in their line of sacks. We hear Pearl's voice, and the camera moves to show Garnet, Amethyst, and Pearl. Pearl asks if Steven is ready to go on a mission. Steven tells the Gems that he can't, because he is doing a video review. Confused, Amethyst asks Steven if he is doing a review of a box, and Steven replies, "No! Of a bag!" Pearl accepts his excuse, and tells Steven to have fun with his bag. Amethyst points to the box and states that Lion is already helping. The camera goes back down to show Lion chewing on the box. Steven admonishes Lion, and the star iris closes on Lion's face.
The star iris reopens and the scene is now in Steven's room again. The hot dog bag is now out of the box. Steven examines it, and estimates that it is about six and a half real hot dogs long. Steven, acknowledging his international viewers, says that the length equals to about seven metric bratwursts. Steven touches the bag, and says the bun fabric is very soft. Steven brings his hand to the hot dog part of the bag, and says that it is pretty scratchy and stiff. The camera turns to face Steven, and he says that his dad likes his hot dog skins "all crispy and snappy", because he thinks that tastes better. Steven then says that he doesn't think there's such a thing as a bad hot dog, only bad chefs. Steven giggles, and we hear Pearl's voice yell "Don't let it into the house!" and Garnet summoning her gauntlets. Steven chuckles and apologizes to the viewers, "Sorry for the audio issues, dudes!". Amethyst is then chucked through the air behind Steven.
Another static screen appears, and in the next scene the camera is back on the Hot Dog bag. Steven touches it, saying that there are three pockets, which is thinks is really nice because he sometimes needs more than two. Steven is interrupted when a dark purplish-blue goop suddenly lands on his arm and the bag. Steven groans, but when he easily wipes the goop off the bag, he comes back to his cheery mood, praising the bonus "goo-resistance". A static screen appears once more.
In the final scene, the camera is pointed at Steven, who is covered in goop. Steven is happy with the Hot Dog Bag, stating "Overall, I'd say that this is a pretty great bag... especially if you like hot dogs!". Pearl calls Steven, and so he ends his video by telling the viewers to make sure to subscribe to his channel. A bunch of dark blue tentacles resembling Chrysocolla's then emerge in the background, as Steven concludes his video by saying "I love you! Bye!". Pearl yells, "Steven, stop filming and hel-" but is cut off by the final static screen.
Features
Characters
Objects
Locations
Trivia
Cultural References
Continuity
Transcript
View the episode's transcript here.
Gallery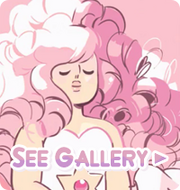 References