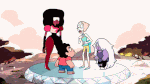 "I don't appreciate your tone."
Please don't add hypotheses in the articles. If you wish to express your opinions, please do so in a
blog
, or the
appropriate board
.
Unknown Gems are Gems who have been visually shown through holograms, drawings, named, or other methods, but have not been identified by their name or Gem type.
D