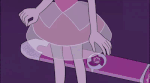 'Please... Let's never speak of this again.'
This article has been locked while the show is on hiatus. If you feel that there is an edit that must be made on this article please contact a member of
staff
.

"Awwwwwwwwwww yeah! You better step off!"
Hey kids, ya rockin' pal Sunstone here! We all know you're all excited about new information, but remember, don't spoil the fun for other people! Keep leaks outta that comment section! This includes file names, censored comments, or just plain spoiler bombin'! Otherwise, we're gonna have to block you! Bungacowa!
The unknown pink Gem is the main antagonist of Steven Universe: The Movie, shown in the teaser trailer, main trailer, and poster for the film.
Appearance
This Gem has a pink complexion, magenta eyes, a small pointy nose, and magenta hair that is styled into a pair of pigtails. She also has three black lines underneath both of her eyes. Her clothing consists of a dark magenta top, puffy hot pink sleeves, puffy magenta shorts, hot pink wrist-length gloves, white stockings and a pair of magenta knee-high boots. Overall, her appearance is similar to that of an old-fashioned cartoon.
Her gemstone is located in the center of her chest, cut in the shape of an inverted heart.
Personality
This Gem appears to be very mentally unhinged, as she is shown grinning whilst laughing maniacally as she fights Steven and the Crystal Gems.
History
TBA
Abilities
She presumably has all the powers of a normal Gem.
Skillset
Elasticity: Seemingly looking like an old-fashioned cartoon, the unknown Gem's attack patterns and movements are akin to it as well. She is extremely elastic and malleable, able to stretch her limbs and torso to great lengths and inflate body parts to strengthen her attacks. She uses this to increase the range of her attacks, able to reach enemies from a distance. She can also coil her extended limbs to form a spring with an inflated fist at the end. Though, this could just be a specialized or subset skill of the normal Gem ability of Shapeshifting.
Weaponary
Relationships
Noted on the official site for the movie[1], she has a bad history with the group, actively seeking out revenge against them.
Trivia
Her design, gloves, and stretching abilities seem to be based off old-fashioned cartoon characters of the 1930s-era "rubberhose" animation style, with long hose-like limbs bending and stretching freely.

Her stretching ability is somewhat similar to the stretchy powers of Jake from Adventure Time, which Rebecca Sugar was a storyboarder on.

Her design is similar to XJ9 (or Jenny Wakeman) from the Nickelodeon series My Life as a Teenage Robot.
| Image | Description |
| --- | --- |
| | Her gemstone is located on her chest. Its shape is that of an upside-down heart symbol. |
Gallery
References
Community content is available under
CC-BY-SA
unless otherwise noted.