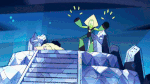 "You have to fix this!"
Steven Universe: Unleash the Light is a mobile game worked on by Cartoon Network and was announced as part of the Apple Arcade Announcement Event on September 10, 2019.[1] The game was co-written by Rebecca Sugar and has a similar gameplay system to Attack the Light and Save the Light developed by Grumpyface Studios. The game will release on the Apple Arcade catalog on a date that is to be announced.
Synopsis
"Steven Universe: Unleash the Light," is an original Cartoon Network game, co-written by Rebecca Sugar, where players pick their favorite characters, choose which Gems are in their party, unlock awesome new abilities and equip alternate costumes in the ultimate mobile role-playing game (RPG).
Features
TBA
Plot
TBA
Characters
Playable
Locations
TBA
Items
TBA
Achievements
TBA
Trivia
Based on the outfits donned by Steven, Garnet, Pearl and Lapis in the promo image, the game appears to be set after the events of Change Your Mind and prior to the events of The Movie.
External links
References