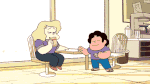 Retired
CelestiaOfEquestria is a previous staff member of this Wiki who no longer holds user rights.
"

Anime was a mistake.

"
—Hayao Miyazaki
Welcome to Papa's House!
Ayy what's good, dude? I'm not going to use that template that shows your name in place of something, because that's on like every user page and I like to stand out. Plus, everyone's my dude anyways. Except if you're a Jasper sympathizer, then you're already on thin ice coming here. But uh, welcome to my userpage! It's pretty cool, got some music going on, a couple images, some personal information about me that I am openly sharing on the internet were anyone can see, because I have no sense of consequence! Have fun, and I am not liable for any damages to your person or possessions.
You got a dumb name!
Yeah, I do!
dont tell me where to sign fam   RaUF talk

What's your story?
Well, I'm Cel. I'm 17 years old and have nothing else better to do with my last year of having no responsibility whatsoever, so I'm poking around here for a bit. I've been around Wikia for maybe 4 or so years. I'm actually a chat mod over at the My Little Pony: Friendship is Magic Wikia which seems to haunt me along with my stupid username. Unlike MLP Wiki, I actually watch Steven Universe. It's a pretty cool show; my favorite is the tall one that has a big nose, she's cute. This is a pretty cool wiki, so I'm gonna stick around here for a bit.
Steve Harvey Gallery
From time to time, people on this fine wiki do drawing requests for people. And from time to time, I commission them to draw one of the greatest men alive. Current host of Family Feud, dated Christian father, innovator of the moral barometer, and the latest host of the Miss Universe Pageant, Steve Harvey!
-Closed temporarily since no one wants to draw Steve Harvey-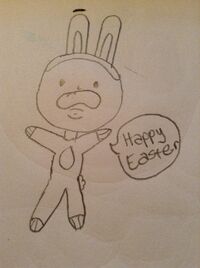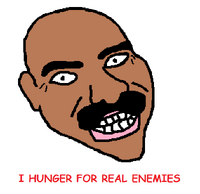 Userpage Music History
I change my profile music fairly often, probably due to my musical ear accquiring a different taste with the passing days. But I don't know how ears can have a sense of taste. What if our tongues were in our ears? That'd be weird. Anyways, here's every track I've used on my profile so far, in order.
Sufjan Stevens - Christmas Unicorn
Lordmaster DJ SK "The Subterranean Suspect" - Nite After Nite
Aphex Twin - B+W Stripes/Z-Twig
The Notorious B.I.G. - Suicidal Thoughts (Instrumental)
J Dilla - Flowers
J Dilla - Last Donut of the Night
The Seatbelts - Cats on Mars (Cowboy Bebop OST)
David Bowie - Valentine's Day (Instrumental)
Lil Ugly Mane/Shawn Kemp - Deer Gas
J Dilla - Two Can Win
Kanye West - Good Morning
David Bowie - Valentine's Day
Earl Sweatshirt - Faucet (Instrumental)
El Huervo - Daisuke (Hotline Miami Soundtrack)
David Bowie - Lazarus (Instrumental)
A Tribe Called Quest - Buggin Out
Clarence Clarity - Those Who Can't, Cheat
Madlib - Fallin (Instrumental)
The Seatbelts - Memory (Cowboy Bebop OST)
Guestbook
Sign here if you wish to immortalize yourself on my user page forever, or at least until this Wikia is shut down to conserve bandwidth possibly within several decades.
I sign anything and everything
Dorumin smells bad and I smell like dank cheetos.
Hi me, it's you, me. I just thought I was a great friend to myself and decided to leave a signature on my guestbook complimenting me. Take care me. Signed, you.

Cel

(Talk)

•

(Contribs)

  
I, Navid appeared because why not?
Hi bro- congratz on becoming CMod
Custom signatures are just a cheap tactic to make unrelevant comments relevant. Eligio Budde (

talk

) 00:28, January 23, 2016 (UTC)
I wish I had a signature
00:34, January 23, 2016 (UTC)
Stuff
This user is a proud member of the Pearl Cult
♥
This user loves true patrician music
♥
This user loves userboxes
♥
This user is not sure how to remove the hearts on these boxes
♥
Stats
Edits of

CelestiaOfEquestria

on the Steven Universe Wiki
Total:

Special:Editcount/CelestiaOfEquestria

Article:

Special:Editcount/CelestiaOfEquestria/

Talk:

Special:Editcount/CelestiaOfEquestria/Talk

User:

Special:Editcount/CelestiaOfEquestria/User

Thread:

Special:Editcount/CelestiaOfEquestria/Thread

Project:

Special:Editcount/CelestiaOfEquestria/Steven Universe Wiki

File:

Special:Editcount/CelestiaOfEquestria/File

Template:

Special:Editcount/CelestiaOfEquestria/Template

Category:

Special:Editcount/CelestiaOfEquestria/Category

Mediawiki:

Special:Editcount/CelestiaOfEquestria/MediaWiki

Module:

Special:Editcount/CelestiaOfEquestria/Module

Board Thread:

Special:Editcount/CelestiaOfEquestria/Board Thread

User blog:

Special:Editcount/CelestiaOfEquestria/User blog

User blog comment:

Special:Editcount/CelestiaOfEquestria/User blog comment
thank you doru for letting me steal this from your profile 👌
Signature