Retired
FulipYogow is a previous staff member of this Wiki who was either voted out, resigned, or asked to leave the staff.
WHO IN THE WORLD ARE YOU, FULIP?
Hello there everyone! My name is Felipe Vieira and be welcome to my Profile!
The first time I watched Steven Universe was a preview on Cartoon Network in April/2014. At first, I thought this show would be just an average cartoon, and I didn't even consider watching an episode. After sometime, a friend mentioned it again, and I finally gave up on my prejudgement on it. For my surprise, it was one of the best things (if not the best) I've ever watched. It contained EVERY single thing I've always wanted to see in a cartoon. And, of course, I fell in love with Pearl. :P
I've started to search in internet for an english version (sorry CN, I didn't like the portuguese version too much XD), and in one day, I've watched everything. But I still hungered for more. I started searching for a wikia, to discuss about everything with the other users and to tell everyone how much I loved Pearl.
When I first joined here, I was afraid to join the chat and talk to everyone (I'm kinda... you know... introvert :P). The first person I met was Pearl is Awsome. She was sooooooooo nice, gentle and lovely that I don't want to leave this place anymore (THANKS P, YOU'RE DA BEST SIS EVAH <3).
So, here I am right now! Thanks my friends for being such amazing persons, and I hope you all have fun as much as I do! If I can be of use to anything, just let me know, I will be glad to. :3
This is all folks, for now. See ya next time!
PS.: Sorry if I commit any grammatical errors. English is not my native language. All I learned came from games, forums, etc.
Best Buddy's Gallery
This is a place where I'd like to mention special things some of my friends did to me c:
Pearl is Awsome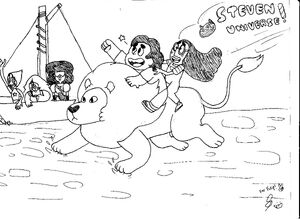 LOOK AT HOW PEARLFECT THIS DRAWING IS. THANKS P FOR DOING IT! :DD
Community content is available under
CC-BY-SA
unless otherwise noted.