[Currently Inactively Active until needed but who needs me anyways?]
yo there <insert name here>, Perlen here~
just a nerdy SU fanboy/wikian here~
What I Feel Like Doing in this Wiki
Patrollin' the Wiki~
Editing A LOT
Fixing Stuff
"Helping" the Admins
WATCHING EVERYONE...
My Edit Stats
Edits of

Perlen297

on the Steven Universe Wiki
Total:
7,872
Article:
2,211
Talk:
567
User:
235
Thread:
767
Project:
13
File:
365
Template:
43
Category:
15
Mediawiki:
148
Module:
0
Board Thread:
2,295
User blog:
42
User blog comment:
243
2015
March
March 09 - Joined the WIKI! After Rose's Scabbard aired.
March 13 - Changed username from "Laneres" to "Perlen297"
March 15 - First Edit! (User page)
March 16 - First Edit on Article
March 29 to April 3 - Reached the Leaderboard!
April
April 07 - First Blog and Rank 15!!
April 09 - 1st Month in the Wiki!
April 14 - Rank 11! (from Rank 15 to 11 and 2 Golden Badges is one day! I'm on fire that day!)
April 22 - Lucky to earn "I'm not like the other guys..." badge for 99,000th edit!
May
May 02 - Rank 10! (2 Golden badges in one day and 1,000th edits on articles)
May 09 - 2nd Month in the Wiki!
May 03 - Rank 8! (from Rank 11) and earned Devoted Badge!
May 29 - 2000th Edit! (this thread)
June
June 02 - Earned Dedicated Badge! (60 days)
June 09 - 3rd Month in the Wiki!
June 20 - Created Sardonyx page
July
July 09 - 4th Month in the Wiki!
July 10 - Another 2 Golden Badges in one day!
July 12 - Rank 10! (from Rank 11) and earned Addicted Badge! (100 days)
July 14 - Became Support Administrator for StevenBomb 3!
July 16/17 - 3000th edit and earned Lucky 241,000th edit badge
July 30 - Became a Rollback!!
August
August 09 - 5th Month in the Wiki + Earned Lucky 307,000th edit badge!
August 22 - Rank 7!
August 23 - Rank 6! and got "I'm a Big Boy Now!" badge, twice... weird
September
September 05 - 4000th edit!
September 06 - My B-Day :D
September 09 - 6th Month in the Wiki!
September 13 - Promoted (temporarily) to Support Admin to help fix some 'Technical Wiki Stuff'
September 18 - Rank 6 from 7! and yet another 2 Golden Badges in One Day! (2000th edit on articles and Lucky 407,000th Edit Badge)
October
October 09 - 7th Month in the Wiki!
October 21 - Won the Chat Mod Election!
October 29 - 5000th edit! (also the one of the worst days in my wiki life)
November 09
November 09 - 8th Month in the Wiki!
December
December 09 - 9th Month in the Wiki!
December 24 - Promoted to Patroller!
2k16
January
January 09 - 10th Month in the Wiki! + 6k edits!
February
February 09 - 11th Month in the Wiki!
February 22 - 7k edits!
March
March 09 - First Year in the Wiki!!
March 23 - Demoted from CMod... finally~
July
'July 04 - Back to being a good 'ol regular user :3
Goals
Reach Rank 5
Reach 8000 edits
Other Places
Other places all over the wikia and internet where you can find me~!
Wikia
Outside Wikia
Tumblr (Crazy Active, Totally Addicted~)
Gallery
Avatars
Current
Future Use
Gallery
My Arts/PNGs
Presenting... THE SU WIKI STAFF SQUAD 2k15!
*Perlen297 died laughing, crying, laughing while crying. Welp, that was a good waste of 30 minutes

SU WIKI STAFF SQUAD 2k16~! (Credits to Cal)
My Favorite Characters
No.
Character
Image
Reason
1st
Connie

A nerdy, adorkable and formerly-introverted young girl I relate to, a lot.
2nd
Steven

I like him as much I love his relationship with Connie. I adore his optimistic and caring personality and he indeed came a long way to Steven he is now.
3rd
Stevonnie

Perfect. Spontaneous Fusion of Love. They're perfect for each other~!
4th
Pearl

Thirsty and Salty bird mom. Why not?

Pearlen?

5th
Peridot

The Great and Loveable Peridot~

smol Peri is so cute~!/small>

6th
Garnet

Made of LOVE <3
7th
Sapphire

Cold and distant, like me at some times. (my birthstone)
8th
Amethyst

Fun-loving and care-free like me at times.
9th
Sardonyx

Elegant~

PS I created her wiki page, your welcome

10th
Opal

All I wanna do is see you turn into a Giant Woman~
I don't own any images used above
Chibi Gems GIFS by Chloe P!
</div>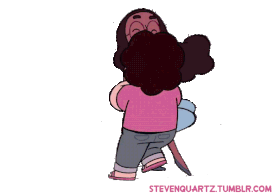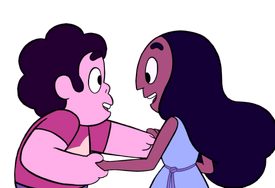 Community content is available under
CC-BY-SA
unless otherwise noted.