About me
I am a member of the wikipedia of steven universe in spanish, I want to know the history of crystal gems, where they come from and what secrets hide. because you're right that this whole plan that rose with time, we do not know, what I've always wondered who choose missions and why? or who gives you missions to gems that is my biggest question.
My favorite pages
Galery
This image is very familiar to me: celestial spiral, where we saw first opal.
Firm
☁ I am the Anti-Vandalism club! ☀
☺ Club to help the wiki <3
My Gems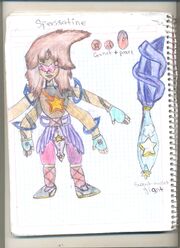 Bolgs
http://es.steven-universe.wikia.com/wiki/Usuario_Blog:Sosakirby/FUTURAS_FUSIONES
Community content is available under
CC-BY-SA
unless otherwise noted.