( ͡° ͜ʖ ͡°) hiya, it's brig! i'm a 17-yr. old writer/wannabe chemist. aside from playing volleyball and tennis, i like reading and listening to/composing music. SU is my favorite show to date (and i'm suffering through the hiatus hehe), and my prevalent fav char. is Pearl, but Garnet's close behind. you can usually find me somewhere around here, but if not, just shoot me a message and i'll try my best to respond.
for those interested, some of my favorite things to listen to are 2NE1, Park Bom and CL because aaaa quEENS, a lil' bit of twenty-one pilots, and Studio Killers. if i'm not on the wiki, i'm pretty much either writing fics, doodling, or jamming out somewhere.

Cults I'm In
Haikyuu!! Cult (aka screaming about volleyball)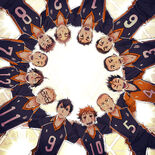 Pearl Cult
(we're working on a 2ne1 blackjack society/cult idk stay tuned)
ayyy! ever need to contact me for something off-wiki? these are the places to go.
Skype: toorubehonest
Tumblr: oikwowa
Community content is available under
CC-BY-SA
unless otherwise noted.