First blog on this wiki. Okay so....
Connie will finally make an appearance! That nagging girl in the promotional art and opening sequence will be finally be introduced! Now we can all stop wondering! Yessssssss. (or am I alone here? >.>)
Side Note:I came up with the ship name "Stevonnie." Deal with it.
Okay so the summary:
"Steven looks like a hero when he uses a magic crystal bubble to save Connie, but then he can't figure out how to turn it off."
The preview: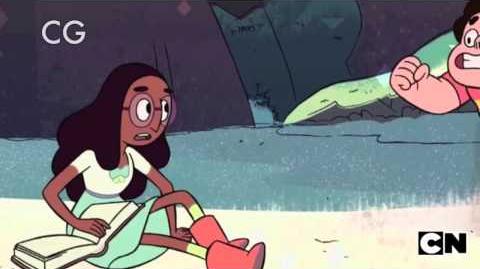 Also: http://www.cartoonnetwork.com/tv_shows/steven-universe/video/bubble-buddies-preview-clip.html
(Oh glob Connie sounds like FP, not sure if good or bad sign)
Okay so obviously this episode is going to be shipping episode where the first true (true as in not including those who tried to ship him with Amethyst) love interest for Steven is introduced. The series seems to be following a pattern and the overall theme is the coming of age. So what do you think will happen in this episode? How will they get out of the bubble? How awkward could things get?
Question of the day: What would it be like if you got stuck in a bubble with someone you had a crush on and could not get out? (and be clean, guys, this is a kid's show)
Community content is available under
CC-BY-SA
unless otherwise noted.