Crewniverse Font
Version 2 is NOW available for download!
Download Version 2! (.ZIP/deviantART)
Download Version 2! (.RAR/Dropbox)
---
Hello, everyone.
For a long time, I've been looking for the font used by the Steven Universe crew for the title cards used in the show, in vain. Since I couldn't find it, I've decided to make it!
"Crewniverse" (formerly known as "Title Card Universe") is a font that replicates the one used for the title cards of Steven Universe at the beginning of each episode. It is also the same font used for the logo of the Steven Crewniverse's Tumblr (hence the title "Crewniverse").
Example: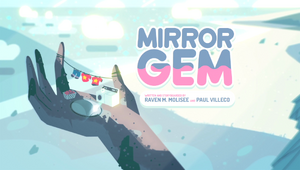 --- I've spent about three full days vectoring, polishing and putting together this font for y'all out there who's been looking for this font all over the Internet. I'm very proud of the end result (even though a bit more could've been done to make it even better).
So, I hope you'll enjoy using this font as much as I enjoyed making it! It is available to download as a .ZIP file on deviantART OR as a .RAR on Dropbox, at the very top of this post, under the preview picture. To install it, just put the .ttf or .otf in your "Fonts" folder. Just look it up if you don't know what I'm talking about.
If you have any questions, please let me know in the comments!
Have a nice day!
Community content is available under
CC-BY-SA
unless otherwise noted.