"

Well, whatever you are, don't be a stranger.

"
—Vidalia
Click
here
to see more of Vidalia's quotes.
Vidalia is a minor character who made her debut in "Story for Steven" in a flashback and reappeared in the episode "Onion Friend" in person.
Personality
In "Story for Steven", she is seen to have an apathetic personality; sarcastically commenting on Greg "living the high life" after seeing his van.
In "Onion Friend", she shows much more emotion than her initial appearance. She is also very empathetic, listening to Amethyst talk about how Garnet and Pearl fighting has been affecting her. She acts like a real motherly figure to her sons and even expresses that affection towards Amethyst. She is also supportive, claiming that her sons have to express themselves, allowing Sour Cream to do his DJing (even though it uses up all the power in the house), and Onion to play with his food and cause trouble. Even after growing up and becoming a mother, she still considers herself a troublemaker and a "bad girl".
In "Greg the Babysitter", she is shown to have matured due to the responsibly of being a single mother to baby Sour Cream and even gets a job to make ends meet. Despite this she is shown to struggle with being a new mother as she is shown having trouble feeding an infant Sour Cream his baby food. She is also a good and reliable person, letting Greg walk and stay in her house despite her frustration with Greg's freeloading.
Appearance
Debut (past)
Vidalia has knee-length, light-blond hair that seems to spike around her face and at the top of her head. She wears light magenta/pale pink eyeshadow, white boots, and high-waisted blue-gray jeans with wear and tear at the knees. Vidalia also wears a dark leather jacket with spikes on the shoulders, which appears to have a belt hanging off of it. Her shirt is pale blue.
Current
She is much older and wears her hair in a short, thick bob that closely resembles a Vidalia onion. At home, she wears a long mint green dress shirt with rolled up sleeves over a white t-shirt, slate-blue overalls with rolled up pant legs, and red slippers.
History
Vidalia is first seen when Greg Universe runs to his van to retrieve a T-shirt for Rose Quartz. Marty introduces her to Greg, and she is not seen after.
Vidalia is revealed to be longtime friends with Amethyst, mother to Onion (whose father is Yellowtail) and Sour Cream (his father being Marty), and married to Yellowtail. Amethyst is revealed to have modeled for her paintings in the past.
Vidalia is seen in the crowd of Sour Cream's DJ show, dancing around with glowsticks.
Vidalia is seen allowing Greg to hang in her house, though she is frustrated by his immaturity and freeloading such as eating nearly all her cereal and spilling milk on her couch. Life as a single mother to Sour Cream is implied to have caused her to become more responsible as Greg is surprised to learn that she "sold out" and got a job. When her babysitter cancels at the last minute, she ropes Greg into babysitting Sour Cream.
Relationships
Greg and Vidalia have known each other for more than 15 years. Though she introduced herself to Greg with a presumably sarcastic remark about his van, she claims "he used to be super hot" in "Onion Friend". Amethyst also states that herself, Vidalia and Greg used to be a group of close friends, but the two separated from him as Amethyst said she is cooler than him.
In "Greg the Babysitter", Vidalia is shown to be annoyed and frustrated with Greg frequently visiting and freeloading at her house, but her laid-back attitude and caring nature stops her from putting her foot down and actually getting mad at him. In a pinch, she tells Greg to babysit her infant son, Sour Cream, while on her first day of work, after her babysitter cancelled. However she threatens to hurt Greg if anything happened to Sour Cream. Later in the episode, Greg is shown to take the threat seriously as he is terrified of what she would do to him if Sour Cream got hurt.
She either knew him before "Onion Friend", or simply knew of his existence beforehand from either Greg or Amethyst. She hears good things about him from her son Onion and is happy to invite him over for dinner.
"

I don't know where that fool is! Don't care either.

"
—Vidalia, in Onion Friend
Marty hooks up with her when he and Greg are playing in Beach City. They attend a party with her friends together. Their relationship seems to have not been anything serious but rather a cheap fling, as Marty is quick to abandon her when he and Greg have to leave Beach City to continue the tour.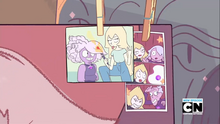 In the background of one scene in "Onion Friend", there is a picture of Vidalia and Amethyst in a photo booth. In the picture, Amethyst shapeshifts into an older Marty and makes a rather unflattering impression of him, which seems to amuse Vidalia greatly.
It is unknown when they met, but Vidalia and Amethyst became very close when they were hanging out with Greg. This is seen in the pictures Amethyst and Vidalia took. Amethyst's free-spirited nature inspired her so much that she even began painting pictures of her at one point with her modeling, and again years later. They reconnect in "Onion Friend" and at the end of the episode, it is implied they would start talking to each other again. They seem to be influential of each other, with Vidalia mentioning that Amethyst inspired her and is the reason why she started painting her again after they lost contact with each other.
Not much is known about her relationship with the other Gems save for Amethyst, though she did ask how they were doing in "Onion Friend". She is shown to be somewhat aware of Rose and Greg relationship, as she refers to Rose as Greg's "magical girlfriend" in "Greg the Babysitter". She may at least be aware of Rose's healing powers (either through Greg and/or Amethyst, or having possibly witnessed them herself) as when she threatened Greg to make sure Sour Cream didn't come to any harm, as she stated that he better hope his girlfriend's magic powers can bring him back from the dead (implying she would kill him if any harm came to Sour Cream).
In the episode "Onion Friend", it is revealed that she married Yellowtail after she and Marty split up. He offers her stability and dedication that others don't quite see.
After marrying Yellowtail, Onion is born. Vidalia loves her son greatly, so much that she even encourages his expressive and sometimes criminal nature.
Her only son with Marty, whom Vidalia loves and supports. She encourages his musical aspirations of being a DJ, even to the dismay of Yellowtail's wishes. She is shown to be protective of the infant Sour Cream in "Greg the Babysitter", threatening Greg if something happens to Sour Cream under his watch.
Episode Appearances
Trivia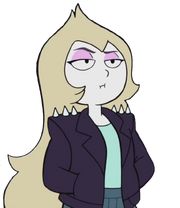 As with her two sons Onion and Sour Cream, she shares her name with the Vidalia onion. With the exception of her husband Yellowtail (who is named after a species of fish), the entire family is named after different types of onions.
In "Story for Steven", the top of Vidalia's hair looks slightly like the top of an onion. In "Onion Friend", her hair is cut shorter and shaped even more like an onion.
Greg and Vidalia have some similarities. For one, they both used to live exciting care-free lives, but ultimately settled down and had a family in Beach City. Secondly, the other parent of their firstborns is also not around in their lives.
It is revealed in "Onion Friend" that Vidalia is a painter, and that she loved painting Amethyst. Many of those said paintings took advantage of her ability to shapeshift, and among other items, there is a picture of a giant purple cat in Greg's storage unit, as seen in "Laser Light Cannon".
Vidalia is the only character that seems to understand Onion, besides Yellowtail. Sour Cream may also be able to, since in "Joy Ride" he reveals that he can understand his stepfather Yellowtail, who speaks like Onion.
Vidalia's name pertains to a type of sweet onion of certain varieties that are grown in the State of Georgia.
Amethyst and Vidalia once trashed the mayor's boat, as mentioned in the background conversation during dinner in "Onion Friend".
Gallery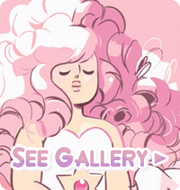 References
Community content is available under
CC-BY-SA
unless otherwise noted.