Jurassic World: Dominion Dominates Fandom Wikis - The Loop
Play Sound
"

I heard you might be able to help me with this.

"
—Pink Pearl
"Volleyball" is the 4th episode of Steven Universe Future.
Official Synopsis
Steven is determined to help Pink Diamond's original Pearl heal the scar on her face.
Plot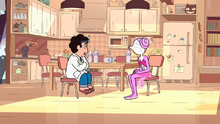 The episode begins with Steven healing the cracked gem of one of Nanefua's Ruby guards and then doing the same to a group of Quartzes. Once the Quartz gems leave to go play volleyball, Pink Pearl shows up, thinking Steven might be able to heal her cracked eye. Steven tries to use his spit on her gem, but is confused when it has no effect. He then tries to put the spit on her eye, but to no avail. Steven then asks about what happened while Pink Pearl was under White Diamond's control, but she says she doesn't remember anything and that she got this scar before White Diamond controlled her. Steven automatically assumes White Diamond was the one who scarred Pink Pearl. When she states Pink Diamond was the one who gave her the scar, Steven tenses up at the mention of his mom and briefly turns into his pink form. Steven is determined to help fix Pink Pearl's scar, and leads her out of the house so they can find Pearl.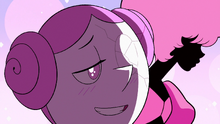 They find that Pearl is the referee of the volleyball game between the group of Quartzes. Steven asks Pearl if she can help Pink Pearl, to which she agrees. Steven struggles introducing the Pearls to each other due to them having similar names, and suggests a nickname for Pink Pearl. Pink Pearl states that Pink Diamond used to give her nicknames all the time, and starts to reminisce about her. Pearl shrugs with an amused grin, quietly quipping to Steven that Pink Pearl "still has it bad"; unlike Pearl, Pink Pearl hasn't moved on from Pink that much. When a volleyball hits Steven's face, he decides to give Pink Pearl the nickname of "Volleyball".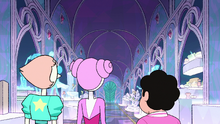 Pearl tells Steven that whenever a Pearl was damaged, they were taken to be fixed at The Reef. Steven agrees to go there and Pearl warps the two of them to The Reef, a clam shell-shaped dome. They are greeted by an A.I. named Shell and explore the customization options for Pearls. Pearl smirks at the many weapons and tools and asks Pink Pearl if she can believe this. Pink Pearl then shows Pearl a ribbon wand that Pink Diamond gave to her. When Pink Pearl asks Pearl what Pink Diamond gave her, Pearl walks away, jealous. Once they enter the center of The Reef, Pink Pearl stands on a circle to be healed by Shell.
However, Shell exclaims that Pink Pearl cannot be fixed, as her gem is not cracked, and that her damage must be psychological. Pink Pearl's crack then expands further. When Pearl asks Pink Pearl what White Diamond did to her, she chuckles and says that she has it all wrong and Pink Diamond was responsible for the damage, upsetting Pearl.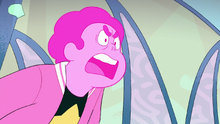 Pink Pearl says that after Pink Diamond grew tired of Yellow and Blue Diamond denying her requests for a colony, she went straight to White Diamond. White Diamond denied Pink Diamond's request as well, saying that she wasn't fit to run one. Pink Diamond then had a tantrum, with Pink Pearl getting caught in the blast, giving her the scar.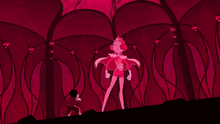 Pearl begins to argue with Pink Pearl, claiming that Pink Diamond was nothing like the way she described her. As they continue to argue, Steven tenses up and turns pink again, saying that he doesn't want to hear another bad thing that his mom did before inadvertently destroying most of the room. Shell then concludes the two Pearls are defective in response to their behavior and attempts to rejuvenate them. Pearl and Pink Pearl bond over their shared emotional pain from Pink Diamond's actions and fuse to form Mega Pearl. Mega Pearl and Steven escape The Reef before Shell can rejuvenate them.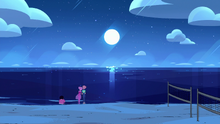 Back on the beach, Steven apologizes to Mega Pearl for not being able to help Pink Pearl. However, Mega Pearl explains that this misadventure did help. Pearl knew Pink Diamond changed, but not about her past; Pink Pearl knew the old Pink Diamond, but didn't know why she changed. This fusion has given both of them the complete picture of who Pink Diamond was. Steven smiles as Mega Pearl unfuses into both Pearls, holding hands and looking at the sea, remembering their Diamond.
Features
Characters
Objects
Locations
Music
Instrumentals
Trivia
In the shot where Pearl is refereeing the volleyball match, a Ruby strikingly reminiscent of "Leggy" can be seen standing alongside two other Rubies.
This episode confirms that the formerly corrupted Quartzes do have eyes (despite not being visible) as one manifests on Biggs Jasper's finger when her gem is cracked.

Zebra Jasper can also be seen with an eye when she is hit with a volleyball.
Cultural References
Various scenes featuring Pink Pearl using her ribbon parallel the transformation sequences from the popular Japanese animated series Sailor Moon.
Mega Pearl's appearance may be a reference to the anime Revolutionary Girl Utena, which has been referenced before on the show.
After Steven deactivates Shell's defense mechanism, Mega Pearl is seen through the doorway laying in a position similar to that of Princess Leia when she is recued from the Death Star in Star Wars: Episode IV - A New Hope.

This may tie into the fact that many fans have noted a resemblance between Pink Pearl's and Princess Leia's double side-bun hairstyles.
Continuity
Errors
When Steven introduces Pink Pearl to Pearl, and tries to find a nickname for Pink Pearl, Steven's latex gloves disappear.
After Steven gave a nickname for Pink Pearl, the closed-caption says snickers was missing when Pearl snickers.
When Pink Pearl laughs at Steven's nickname for her, her nose suddenly becomes the color of the crack.
When the Quartzes are shown to play volleyball, Zebra Jasper still has a crack on her gem.
When Steven asks if they are at the Reef, subtitles list his name as Steve.
Transcript
View the episode's transcript here.
Gallery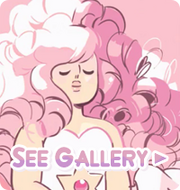 References