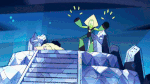 "You have to fix this!"
"Volleyball" is the 4th episode of Steven Universe Future and the 4th episode of the series.
Official Synopsis
Steven is determined to help Pink Diamond's original Pearl heal the scar on her face.
Plot
Features
Characters
Unnamed Pink Pearl And Pearl Fusion
Rubies
Trivia
Cultural Refrences
Various scenes featuring Pink Pearl using her ribbon parallel the transformation sequences from the popular Japanese animated series Sailor Moon.