Watermelon Tourmaline
,
[1]
 also known as the
Giant Pufferfish
in their
corrupted
state, is a formerly-corrupted Gem that first appeared in "
Beach Party
". They were later healed (along with the other Corrupted Gems) in "
Change Your Mind
". Watermelon Tourmaline became a 
Little Homeworld
 resident, partaking in
Little Homeschool
as well.
Appearance
Corrupted
The upper half of Watermelon Tourmaline's body is colored shamrock green while the bottom half of their body is colored light pink.
Their body is covered with spikes, with the spikes on the upper half of their body being more numerous and much longer than the spikes on the bottom half.
They have diamond-shaped turquoise pupils with slanted mint-colored eyelids and dark grayish-green colored lips. The location of their gemstone is unknown because it can not be seen.
Uncorrupted
The top half of their head and lower torso are shamrock green, while their shoulders, upper arms, and the lower half of their head are light pink. Jagged white lines separate the green and pink sections of their body. They are completely bald, with rounded facial features and no neck, with large puffy cheeks that appear to have a dark pink blush.
Green-tipped pink spikes (possibly scars from her corruption) cover their shoulders were they are wearing a reddish-pink jacket wrapped around their shoulders. They also wear dark green pants, covering their feet. Their torso is large, spherical and balloon-like in appearance. They have four short arms oriented radially midway down their torso, one pair towards the front and another towards the back.
Their eyes are wide and circular with rectangular pupils, and their eyelids are not visible. They possesses heterochromia, with their right eye being shamrock green and their left eye being reddish pink. Their lips are much less defined than those of their corrupted form, and are the same color as the rest of the lower half of their face. Their gemstone cannot be seen.
Personality
Nothing is known about Watermelon Tourmaline's personality.
History
Around 4,500 Years Ago
At the end of the Rebellion, Watermelon Tourmaline was unable to escape the Corrupting Light and became corrupted.
The Crystal Gems clash with Watermelon Tourmaline at the beach. After Garnet is flung from the battle site by the Gem monster, Amethyst smacks the Watermelon Tourmaline far away into the ocean, allowing the Crystal Gems to regroup. The Gem monster later returns to the beach and is eventually defeated by the joint effort of the Crystal Gems and the Pizza family.
Following the battle on Homeworld, the Great Diamond Authority healed the Corrupted Gems, including Watermelon Tourmaline, in Rose's Fountain, emerging from the depths of the Fountain just a few seconds after Nephrite themself was uncorrupted surrounded by most of their now uncorrupted Crewmen. They would then be with Steven, Nephrite, and the now uncorrupted Biggs Jasper and Ocean Jasper having a conversation together when Jasper finally emerged from the depths of the Fountain, still thinking that Steven was actually Rose Quartz and summoned their crash helmet to attack him, only to get verbally stopped by Yellow Diamond who managed to get Jasper to calm down considerably.
Watermelon Tourmaline appears as a resident of Little Homeworld.
Watermelon Tourmaline makes a very brief cameo alongside an Aquamarine; as Steven gives a recently uncorrupted Cherry Quartz a tour of Little Homeworld, they can be seen jovially bouncing past them.
They attends Sapphire's class on the beach.
Watermelon Tourmaline is seen walking down the sidewalk in the background.
Abilities
Corrupted
Tetraodontid Physiology: They take on the form, traits, and some abilities of pufferfish, allowing them to inhale air to increase their size to appear more threatening.

Spiky Defense: Like diodontidae type pufferfish, they possesses sharp spines, which radiate outwards when they're inflated.

Respiratory Strength: They have the power to spew an incredibly powerful gale which is strong enough to blow away Pearl's spear mid-throw and even Garnet herself.
Enhanced Durability: They seems to have high durability, as they were able to endure Amethyst (as a giant bat) hitting her into the ocean. However, because they are inflated with air, they can be defeated by being pushed into a sharp object with enough force to pop them.
Uncorrupted
Ball Bounce: Watermelon Tourmaline's more spherical form allows them to bounce on surfaces rather than walk or run.
Episode Appearances
Trivia
| Image | Description |
| --- | --- |
| | Watermelon Tourmaline's gemstone location is currently unknown. Their gem is shaped and colored to resemble an actual slice of watermelon. It is a hexahedron, specifically a square frustum. It is possible that this gemstone has been changed or reworked, as it only appeared in "Change Your Mind". |
Galleries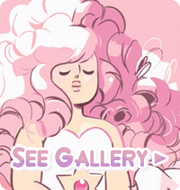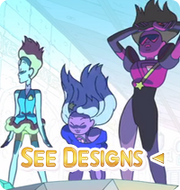 References
Community content is available under
CC-BY-SA
unless otherwise noted.