Doctor Strange in The Multiverse o Madness - The Loop
Play Sound
"What Are Gems?" (full title: "The Classroom Gems: What Are Gems?") is a short released on the Cartoon Network website and YouTube channel. The short has Pearl educating the viewer and Steven about Gems. You can find the short here.
Synopsis
Steven learns about Gems from Pearl.[1]
Plot
The short takes place in a classroom with the characters portrayed as chibi-esque versions of themselves. Pearl is the first teacher to be introduced who talks about the nature of Gems. Pearl begins by introducing the basic form: their gemstone. She says that the bodies they possess are a result of projections generated by their gemstones. The projected bodies are a heavy mass of light that allows their forms to be solid physically. Garnet and Amethyst join in as figures on the chalkboard, introducing themselves with an act of wit regarding mass, which Pearl attempts people to disregard and seek the ongoing lesson.
Pearl mentions that while the generated mass is extraordinarily resilient to harm, a Gem may have to dissipate the form and focus on their recovery, leaving themselves as a Gemstone. Garnet demonstrates this by poofing Amethyst. Pearl points out that while the Gem is recovering with their form as a gemstone, they are vulnerable to either enclosed incarceration in their gemstone forever (such as being bubbled) or being defenseless to future harm, which can result in a Gem's projected form from being unstable. Garnet demonstrates the bubbling incarceration, and Amethyst demonstrates the effects of having a cracked gemstone. Pearl says if an event happens to shatter the gemstone, they will cease to exist as themselves.
Amethyst boasts her toughness, but Garnet wants to prove her wrong and begins to chase Amethyst across the classroom. Pearl concludes the lesson at this point. Steven asks what if a Gem is half-human. Pearl responds with the answer: Steven; it makes Steven happy, and Pearl requests Steven to make an essay on himself. Steven asks what an essay is, which makes Pearl end the presentation.
Characters
Trivia
A Steven Universe bumper that Cartoon Network regularly airs features the scene where Garnet chases Amethyst. This bumper has been shown on the network for several weeks before the actual short's release, confusing fans.[citation needed]
Cultural References
Transcript
View the episode's transcript here.
Gallery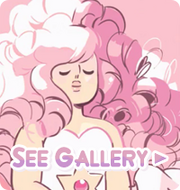 External links
References