"What Can I Do" is a song featured in "We Need to Talk". It is a duet sung by Rose and Greg, shown to Steven and Connie in one of Greg's old video tapes.
This song is also available at Aivi & Surasshu's SoundCloud stream.
Lyrics
[Rose Quartz and Greg]

What can I do
For you?
What can I do
That no one else can do?
What can I do
For you?
What can I do
For you?
[Rose Quartz] Human man
You are so much fun
I hadn't planned
On finding you quite this entertaining
I like your band Garnet: Woo!
And I like your song
I like the way
Human beings play
I like playing along
Oh-whoa-oh-oh-oh-oh-oh~
[Rose Quartz and Greg] What can I do
For you?
What can I do
That no one else can do?
What can I do
For you?
What can I do
For you?
Track Information
Demo Version
The demo for "What Can I Do"
This song was a collaboration between me, Jeff Liu on guitar, and Ben Levin on bass! It was a dream come true to write a duet for Susan Egan and Tom Scharpling! [1]
A Word from the Composers
"What Can I Do For You" from We Need To Talk, composed by Rebecca Sugar, Jeff Liu, and Ben Levin. We worked with their musical ideas and recruited the amazing Roger "Rekcahdam" Hicks on drums and Stemage on electric guitar. Tom Sharpling (Greg) and Susan Egan (Rose) gave fantastic vocal performances!"
Videos
Trivia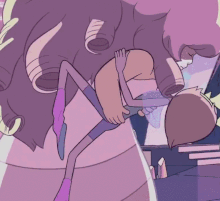 This is the first song Rose sings, as well as her first duet.
This is the second duet Greg sings; the first duet is with Steven in the episode "House Guest".
During this song, Rainbow Quartz makes her debut appearance.
At approximately 2 minutes and 30 seconds, this is the second longest song in the series, after "Stronger Than You".
This is the second song to be played on a tape, the first being "Do or Do Nut".
This is Rose and Pearl's fusion (Rainbow Quartz') song, and the first fusion theme that isn't instrumental.
This song was hinted when Rose's voice actor, Susan Egan, said that she would sing a song as Rose-this being that song.
This is thought to be chronologically the first song Amethyst plays drums for, but it is the second time we see her play in the show (the first being during "Steven and the Stevens".)
Amethyst gets paid in Pop-Pop for playing drums for Greg.
References