"

I'm going to say something... Thank you.

"
—Peridot

"When It Rains" is the 19th episode on season 2, and the 71st episode overall.
Synopsis
Steven helps a friend who is afraid of thunderstorms.[1][2]
Plot
The episode begins with the Crystal Gems outside of Steven's bathroom demanding Peridot to reveal information on the Cluster, which she angrily denies. Pearl offers to trade with Peridot, asking her what she wants in exchange for the information. Peridot demands for her equipment to be returned, before facetiously refering to the fact that it had already been destroyed back at the Galaxy Warp. Steven finishes his business and leaves the bathroom. Pearl says that Peridot will crack eventually; Peridot expresses her doubt(s) this will occur, angering Pearl. Garnet calms her down, suggesting they investigate the Cluster on their own instead of fighting Peridot to no avail. Steven wants to come with the Gems, but Garnet tells him that they need him to stay behind and watch over Peridot. Before the Gems depart, Garnet tells Steven that she loves him.
As Steven is boiling something on his stove, a heavy storm starts outside. He tells Peridot that the Gems left, so she can come out of the bathroom. She refuses, claiming that she likes it in there. After hearing thunder, Peridot immediately kicks her way out of the bathroom, exclaiming, "It's happening!" Steven asks her what's wrong, and she says that only the Cluster can make a noise like that. Steven says that it's simply thunder, which happens when it rains. He explains what rain is to Peridot using the soup he is making as an analogy. Steven shows that rain is harmless by running outside and playing in the rain. At first, Peridot is scared to go outside, but after feeling the rain with her fingers, she steps out. Back inside, Peridot thanks Steven for providing information on how rain works. She explains that he is a much more intelligent being than what she had initially thought, and decides that she is ready to share information about the Cluster with Steven. He says that she should tell the information to the gems, but she refuses, saying that she only needs Steven's help. She offers to escort Steven to Kindergarten where she stored her last logs on the Cluster and Gem (or by extension, forced Gem shard fusion) experiments. Steven reluctantly agrees to go, only in the condition that he holds Peridot's hand the entire way.  
They warp to Kindergarten and fall off of the Warp Pad. Steven states that the Kindergarten gets worse every time he goes there, and Peridot says that it was poorly managed, and it must have been much better when Steven was first "emerged." Steven questions her, and she explains that he seems to be a type of quartz, so he must have been made in this area. Steven explains that he came from his mother, who was a Gem, and his father, who is a human. The idea of a hybrid Gem confuses Peridot, but they move on to Facet Five. Steven asks Peridot what the fusion monsters were all about when they last were in Kindergarten. She explains that after Homeworld decided that Earth was no longer a viable colony, the Gems decided to use the planet for a series of experiments on forced fusions for use as a Gem geoweapon. She had not existed when Homeworld began the experiments, but Peridot read over a few hundred years' worth of reports, expressing her pride in doing so as they arrive at the control room. Peridot tries to restore power to the control panel using Steven's help, and exhibits all the attempts at artificial fusion; they were all prototypes for the final product, the Cluster, a forced fusion consisting of millions of Gems. Because of its size, which is larger than Earth itself, it is capable of destroying the planet immediately after it emerges in its physical form. Because the prototypes have already emerged, the Cluster would then be next. Peridot explains that the only options they have are to evacuate the planet or stop the Cluster itself.
On the way back to the warp pad, Peridot explains to Steven that he is all the help that she will need in stopping the Cluster due to his "vast knowledge" on the Earth and its behavior. He attribute's Peridot's misunderstanding to lack of clarity, and explains that the only reason why he knows how rain works is because Greg told him how it works. He used to be afraid of thunderstorms, just like Peridot, and after learning the mechanics of it, he was no longer scared. His offer is that she share the knowledge to the Crystal Gems, who are vastly more capable of stopping the Cluster than Steven alone. Gem mutants crowd around the Warp Pad, and Steven immediately summons a bubble shield around himself and Peridot. The mutants chase them until they are cornered, at which point the Crystal Gems come to help, bubbling them and saving both Steven, as well as Peridot. After Pearl scolds him for letting Peridot lead him into what could be a trap, he tells Peridot that they need the help of the Gems if they are to have any chance of stopping the Cluster. After leaving the bubble shield, Peridot confronts the Gems, and agrees to share their much-needed information.
Features
Characters
Objects
Locations
Music
Instrumental Songs
Trivia
This is the first time Peridot is seen in a promo. This is also the first time any Homeworld Gem is seen in a promo.
Peridot starts cooperating with the gems in this episode, and finally calls them the Crystal Gems instead of clods.
Peridot now says Steven's name without thinking of him as a separate species.
This is the third time Steven is seen using the stove. The first was in "House Guest", and the second was in "Onion Friend".
Peridot admits to have used Steven's toothbrush.
Before Steven corrected her, Peridot believed that Steven was "some kind of quartz" formed in Earth's Kindergarten.
This episode contains one of Katie Mitroff's favorite scenes she has ever drawn for the show.[3]
The Cluster is revealed to actually be at the core of the Earth, although the screen depicted that it was almost directly underneath North America.

File:When It Rains00090.jpg

The episode ends without an iris close.

This could possibly be because the next episode, "Back to the Barn", takes off directly from the end.

Peridot's weakness without her Limb Enhancers is further shown as Steven could easily remove a panel she could barely budge.

Steven has occasionally displayed great strength he has inherited from his mother; most notably in "Arcade Mania" where he tears an arcade machine in half with his bare hands.

This is the fourth time the Kindergarten is seen.
Cultural References
The title is most likely a reference to the phrase "when it rains, it pours."
Garnet forming a heart shape with her hands is a popular social hand gesture of love.
Steven's asking Peridot "What's up, Dot?" is a nod to the catchphrase commonly associated with the Looney Tunes character Bugs Bunny.
Steven mentions "The Ballad of Rose and Greg", a probable send-up to the Beatles song "The Ballad of John and Yoko".

This is also the first time Steven mentions his parents by their first names.
Continuity
Peridot is still living in Steven's bathroom, as of "Catch and Release".
Peridot mentions that all her logs up to date 652, which she made in "Keeping it Together", still exist.
Peridot's surprise at Steven being a hybrid reinforces the concept that Steven is the first gem hybrid.
This is the second time Garnet tells Steven she loves him. The first was in "Jail Break".

However, this time she says "I love you" instead of "we [already] love you".

This is the second time Garnet uses electricity in an offensive manner, the first being "Catch and Release."
While Amethyst and Pearl get close to the Cluster Gems while fighting them, Garnet keeps her distance. She might still be scared by the fact that they are forced fusion.
Errors
When Steven turns towards Peridot when she kicks the bathroom door open, the star on his shirt goes over the pot lid he's holding.
When Peridot pushes Steven aside, he is standing. However in the next scene, he is sitting down, appearing to have been pushed to the ground.
Transcript
View the episode's transcript here.
Gallery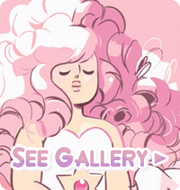 Videos
References