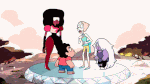 "I don't appreciate your tone."
Please don't add hypotheses in the articles. If you wish to express your opinions, please do so in a
blog
, or the
appropriate board
.
White Diamond is a Homeworld Gem and a member of the Great Diamond Authority that rules over the Gem race. She is the superior of all Gems, including her fellow Diamonds, and has not left the Gem Homeworld in eons. She made her debut in "Legs From Here to Homeworld".
Appearance
White Diamond has white spiky hair in a shape similar to a star pentagon and white skin. She is shown to be larger than her fellow Diamonds. Like the other Diamonds, she has diamond-shaped pupils, but hers are white instead of black, and she has large, full, black eyelashes. Her gemstone is embedded in her forehead.
She wears a long white dress that reaches the floor and splits on the sides to expose her legs, shoulder pads, and a pair of intricately detailed dress sandals with high heels. She also wears a cape with black and gray stripes that is lined with diamond and star designs.
White Diamond is unique in that her body constantly radiates a bright light. Due to this, her facial features (aside from her eyes, nostrils, and mouth) and gemstone are not visible. A drawing by Rebecca Sugar, however, does show these missing details.[1]
Abilities
White Diamond possesses standard Gem abilities, but since she is a Diamond, her abilities are expected to be much greater than that of other Gems.
Unique Abilities
Aura Projection: The Diamonds can project an aura around them that they can control, they can either radiate it from their entire bodies or emit it from specific parts of their bodies, usually their hands. Not much has been shown of White nor her aura, but during the Diamonds' final attack against the Crystal Gems, White's aura was shown around her hand as a solid white corona-like flare around it.
Episode Appearances
Trivia
The shape of White Diamond's hair-style gives the impression of a life-giving sun, symbolizing glory.
Though not properly named within the show, White Diamond's name is seen alongside the names of the other three Diamonds along with their specific themes.[2] She has not been mentioned in the show by any character thus far.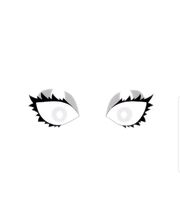 White Diamond's mural suggests that she is the oldest of the Diamonds.

She owned the most colonies at the time of Earth's colonization.
The circular disk behind White Diamond's head appears to show her descending from the sky.
She is the only Diamond to be portrayed as being completely symmetrical, which alludes to perfection and balance.

During San Diego Comic-Con 2018, Cartoon Network held a "3-D photobooth" for Steven Universe. When fans received their "3-D" image, a clip was attached at the end teasing White Diamond with a brief animation of her eyes blinking.[3]
White Diamond is drawn in the style of the show's background art.
Rebecca Sugar took inspiration from the illustrations of Nell Brinkley when designing White Diamond.[citation needed]
Gemology
Gemstone Information
Diamond is the official modern birthstone for April, and it is also used as an official sixty-year anniversary gemstone.
Diamonds are the stone of truth and victory.

It is associated with lightning and fearlessness, and for its properties of protection.
The diamond, in its rarity and beauty, is a symbol of purity and innocence, love and fidelity, and embraces the strength of character, ethics, and faithfulness to oneself and others.

Diamond is the transparent, gemstone-quality crystalline form of carbon and it is indeed one of the hardest known natural substances on Earth.

Diamonds' hardness is the result of adamant chemical bonds between the carbon atoms.
There is no other gemstone in the same family as diamond, although there are a variety of very similar gemstones.
Diamond is pure carbon and is chemically the same as graphite.

Traditional colorless or "white diamonds" are by far the most popular colored diamonds.

Other diamond colors include pink, red, orange, blue, green, gray, brown, and black.
Specific colors will trade under specific names.
Sometimes non-colorless diamonds will be more valuable than normal. The Hope Diamond is blue and the Magic Russian Diamond is blue.

Diamond deposits are found worldwide. The most notable being Africa, Australia, and India.

Approximately half of the world's diamonds come from Central and Southern Africa.
Canada has recently become a main commercial source for fine white diamonds.
Brown and Black diamonds used to be the least valuable ones, and were typically allocated for industrial use. However around 2010, jewelers started marketing them as Chocolate Diamonds.

White diamonds are diamonds with no impurities, giving them a transparent color.
Diamonds have practical uses.

Until a few years into the 21st century, Diamonds were thought to the the sharpest material on earth. A specific type of snail teeth has claimed this title. For this reason, high quality drills can sometimes be diamond tipped.
Diamonds with specific impurities can be used for quantum computing applications.
| Image | Description |
| --- | --- |
| | White Diamond's gemstone is located on her forehead. |
Gallery
Screenshots
Animations
Official Artwork
References
↑ Steven Universe: Art & Origins; page 159
Community content is available under
CC-BY-SA
unless otherwise noted.