Jurassic World: Dominion Dominates Fandom Wikis - The Loop
Play Sound
"

...Lars...

"
—"Horror Club"
White Topaz,[1] also known as the Lighthouse Gem Monster in her corrupted state, is a corrupted Gem that first appeared in "Horror Club". She is notable for possessing the Lighthouse.
Appearance
She consists of a gigantic mouth grown on the wall with Lars' name on it.
History
She was trapped inside a wall in the Lighthouse.
When Lars and Ronaldo were young, Lars carved his name in one of the walls. In response, the Gem loosened a plank from the wall and smacked Lars with it. Ronaldo took a photo of this event, intending to use it as evidence of the Lighthouse's possession, but Lars feared embarrassment and tore up the photo. The Gem recorded Lars' and Ronaldo's falling out.
Years later, Steven, Lars, and Sadie went to the Lighthouse and watched a movie with Ronaldo. The power in the Lighthouse went out, likely due to the Gem. Ronaldo suspected a ghost and brought out a pendulum. The Gem sent the pendulum flying into Lars' face, then she lifted many folders from a filing cabinet which circled the humans. After throwing a few more objects at the group, she tried to trap them by forcing the only door shut, but they managed to charge through it. They attempted to exit the Lighthouse, but the Gem attacked them using scarecrows which were placed outside by Ronaldo earlier. The group forced out the scarecrows and shut the door, leaving themselves inside the Lighthouse.
As the group argued amongst themselves, the gem drew back some floorboards from under Sadie, causing her to fall in the basement, then she closed the floor. She opened a trapdoor for Steven, Lars and Ronaldo to enter the basement.
Inside the basement, the group saw White Topaz's physical form, which grew a mouth right before their eyes. Ronaldo attempted to sacrifice Lars to White Topaz by throwing him into the mouth, hoping to rescue Sadie. Steven jumped in to protect Lars; as White Topaz tried to bite into the two, Steven formed his bubble shield and forced the Gem's teeth back, and this destroyed her mouth and physical form. Sadie was unharmed, and as she emerged from the mess, she pushed out White Topaz's gemstone on to the floor. Steven picked up the Gem, and she immediately played back her recording of Lars and Ronaldo.
After watching the recording, Steven bubbled and stored White Topaz's gemstone. Sadie and Steven understood that White Topaz felt hurt by Lars' carving, and that her aggression came from being trapped for a long time.
Abilities
Possession: She has the ability to possess, although it is unknown if this ability is limited to inorganic or non-living matter.

Host Body Manipulation: While possessing the Lighthouse, she was able to manipulate different parts of the building, like forming flesh-like matter and a mouth on the basement wall. However, it can be assumed that her Gem body was the mouth, as it poofed and produced her gem upon being forced open by Steven's bubble.
Partial Possession: She has many paranormal-like abilities, such as possession of inanimate objects like scarecrows and fake bats, meaning she is not limited to only the lighthouse, but nearby objects or items touching it.

Telekinesis: She carries the power of telekinesis, which is shown when she was able to levitate and throw objects inside the Lighthouse.
Memory Projection: She has the ability to project recordings of past events she has witnessed, just like Pearl. This also bears a resemblance to Lapis Lazuli's photographic memory-like ability to replay past events as seen in the episode "Mirror Gem". Unlike her distorted speech, her memory playback can be heard clearly.
Hologram Projections: White Topaz can project holograms like an uncorrupted Gem, with enough skill to create accurate "playbacks" of past events from memory. These projections are blue, and can be seen clearly.
Episode Appearances
Trivia
She's capable of projecting recordings of events that she has witnessed, similar to Pearl's ability to project holograms, and Lapis Lazuli's ability to record events she has witnessed through the Mirror she was trapped in. It is the first (and so far only) Gem Monster to demonstrate this ability.
She is the first corrupted Gem to possess the ability to talk. However, her speech is faint and disorientated.
She is the first Gem Monster to target a specific individual, with Lars being that individual.
It's questionable if she is Corrupted as she hasn't been seen using a form. However, the big mouth might have been her form, which would explain the mouth poofing. This is most likely the case, as she was bubbled away as a proper Corrupted Gem (discounting the Heaven and Earth Beetles, plus Desert Glass).
Her name and design was revealed in Steven Universe: End of an Era.
Her gemstone, although a white topaz, appears more bluish, likely due to the pallette of the lighthouse basement.
| Image | Description |
| --- | --- |
| | While corrupted, White Topaz's gemstone doesn't have a known physical location. Her gemstone has triangular facets and a circular center facet. Her gemstone is a white topaz, as revealed in End of an Era. In her uncorrupted form, her gem is on the left side of her head. It appears blue due to the lighthouse's basement palette. |
| | A full view of White Topaz's gemstone. |
Gallery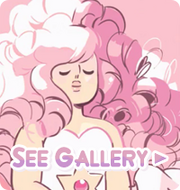 References