Doctor Strange in The Multiverse o Madness - The Loop
Play Sound
"

That wasn't strength! That was weakness. Restraint takes strength. Patience takes strength!

"
—Lapis
"Why So Blue?" is the 8th episode of Steven Universe Future.
Official Synopsis
Steven has heard rumors of a pair of Gems that are still destroying worlds. If he can't stop them, maybe Lapis can.
Plot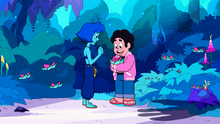 The episode starts with Steven and Lapis warping to a colorful alien planet. After taking notice of the planet's beautiful nature and extraordinary lifeforms, Lapis mentions that long before she met Steven, she would terraform planets across the universe without even taking the time to appreciate all the wondrous life each one could produce. She and Steven then realize that they aren't the only Gems there and find two other Lapis Lazulis, one mean and one nice, flying around and causing untold damage to the planet. Steven gets their attention, and they introduce themselves and want his opinion on their "work". Steven informs them that the Diamonds don't control Gems anymore and they don't have to terraform worlds unwillingly, but they reply by saying they're terraforming planets simply because they want to and question why they should stop. Lapis tells them it's wrong, but they insist on finishing what they've started.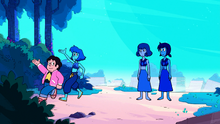 Steven and Lapis privately discuss getting them to see the light won't be as easy as they thought, so Lapis suggests that force will keep the two Lapises in line. Naturally, Steven objects to this and asks what helped her see the light, to which she replies "a cycle of horrible torture", along with living in nature and getting creative. So they then try to show the other Lapises how much fun anything but demolishing worlds can be, to which they half-agree to let them do so seeing as Steven is half-Diamond.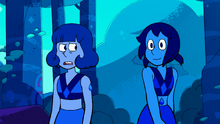 Steven and Lapis show them how beautiful nature and organic life are, as well as Lapis showing them how to make Meep Morps of anything. They try this themselves, but it ends with them intentionally sawing a mountain in twain, which they find to be much more efficient in brutalizing worlds than how they normally do it. Steven and Lapis then try to show them other fun activities, like dancing, which delights Nice Lapis, but not so much Mean Lapis.
Running out of options, Lapis suggests that if the previous activities don't make them feel good right away, then maybe they could navigate their new way of feeling by expressing themselves through song. She then sings about how unbearable her life use to be, but how over time, she discovered how unpredictable and beautiful life can be. Unfortunately, instead of being inspired by her song, the two other Lapises found it quite humorous and criticize her, then return to tearing the planet apart.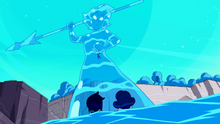 Having had enough of their ignorance, Lapis decides to literally take matters into her own hands, causing the three Lazulis to break out into a fight. Steven tries to intervene, but Lapis insists that he stays out of it. The two Lapises eventually have Lapis in chains and attempt to finish her off, but then, a calmly enraged Lapis then summons an ocean wave to wash them away. She then tries to take down by forming a giant version of herself out of the water and prepares to smite them both with a giant water spear. But before she does, she sees Steven on the cliff who reminds her of who she is now, which helps calm her down.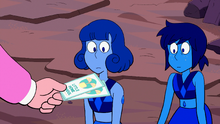 Lapis and Steven then go check on the other Lazulis, and Lapis assures them that the fight is over, and demands to know if they'll stop terraforming and leave the planet to thrive. They give her their word on account of the act of strength she had displayed. She informs them that it was a weakness, restraint, and patience is what takes strength, and then heads back to the Warp Pad, claiming it's not worth the fight. Before Steven catches up with her, he hands the other two Lapises brochures for Little Homeschool if they consider enrolling.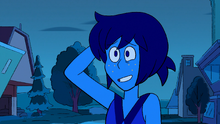 Returning to Earth, Lapis regrets the actions she had taken today and claims the other Lazulis reminded her of who she used to be. Steven comforts her by reminding her of how much she's grown, and how it isn't her fault that they're stuck in their ways. Then to their surprise, Nice Lapis arrives on the Warp Pad and asks if she had arrived at Little Homeschool, to which the episode ends with Lapis and Steven gladly welcoming her with open arms.
Features
Characters
Objects
Locations
Music
Songs
Instrumental Songs
Trivia
Zach Callison and Jennifer Paz are the only voices throughout the episode.
This is the first episode, in both Steven Universe and Steven Universe Future, to show other Lapis Lazulis.
Nice Lapis has golden freckles, a reference to the pyrite specks on real-life lapis lazuli.
This episode has Lapis singing a second solo song, with her first being "That Distant Shore" in "Can't Go Back".
It is mentioned that Pearls, as a Gem type, are known to dance and sing.
Cultural References
The music style of "Shining Through" greatly resembles that of bossa nova, especially the beat and the piano.
When Steven first pokes the alien-flower lifeform, closing it, the Item Pickup sound effect from The Legend of Zelda: Breath of the Wild can be faintly heard.
Nice Lapis bears a slight resemblance to the character Hikari Horaki from the anime Neon Genesis Evangelion, bearing the same kind of freckles and hairstyle.
When Lapis assumed her "water form" during her fight, it's a reference to an episode from Avatar: The Last Airbender, where Aang fused with the Ocean Spirit and drove the enemies away.
Continuity
Water hands and water chains have appeared in many earlier episodes as weapons used by Lapis and Malachite.
The word "pitiful" said by Mean Lapis and Lapis Lazuli recalls the episode "Little Homeschool" when Jasper says the same thing right before Steven bursts out his pink aura. Steven also repeats it after entering this state.
Errors
In the scene where Mean Lapis and other Lapis Lazulis are looking at their reflections on the water, her gem is missing.
Video
Transcript
View the episode's transcript here.
Gallery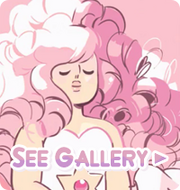 References