| | |
| --- | --- |
| | This is a transcribed copy of "Why So Blue?". Feel free to edit or add to this page, as long as the information comes directly from the episode. |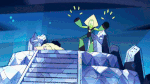 "You have to fix this!"
Speaker
Dialogue
[Open. Int. Mysterious Planet]
Steven
Okay. This shouldn't take too long. Most Gems come around pretty quickly when I invite them to Little Homeschool in person.
Lapis
What a gorgeous planet.
(Steven and Lapis encounter a mysterious flower bud creature.)
Steven
Woah.
(Steven proceeds to touch it, which makes the bud retreat into a bush with other buds. Steven approaches the buds again and pets one.)
Steven
It's okay, little guy. *gets crawled on* Hahaha *laughs more*
Lapis
Wow, Steven. It took you a whole five seconds to make a new friend. You're getting rusty. *approaches* You know, I never used to notice creatures like this. Before Earth and you, I used to terraform planets without thinking twice. I wonder what I destroyed. *bud creature opens* Life like this is so precious.
(The bud creatures all open up, but then close as something passes through the air.)
Lapis
Uh, Steven.
(They walk to an edge to see what's going on.)
Steven
Ah. So the rumors are true.
Lapis
You think they didn't get your message that we're not destroying planets anymore?
Steven
I'm sure they did. Everyone did. But, I'll get them to stop.
Lapis
This might be harder than you think.
(A blue figure flys by.)
Steven
There they are.
(In the distance is "Nice" Lapis and "Mean" Lapis, who are manipulating the water to slice up a large rock. This terrifies the flower bud creatures into hiding.)
Steven
Hey! Stop!
(The Lapides decide to throw a tidal wave at Steven and Lapis, the former guarding against it successfully.)
"Nice" Lapis
Wait a minute. That's Steven Universe!
"Mean" Lapis
He's smaller than I thought.
(Both float down to the edge.)
"Nice" Lapis
Well, what do you think? We're almost done with this world.
"Mean" Lapis
And who's this? We don't need the extra help.
"Nice" Lapis
You must have heard about our exemplary work. That's why you're here, I presume.
Steven
Yeah. Well, no. Look, the empire is over.
"Nice" Lapis
We know.
Steven
The Diamonds don't control you anymore.
"Mean" Lapis
That's right.
Steven
... So, you don't have to terraform planets for them anymore. You're free to do whatever you like. Why don't you come on down to Little Homeschool where you can-
"Nice" Lapis
Oh, I see. This is just a misunderstanding.
"Mean" Lapis
Terraforming is what we like.
Lapis
*sighs* Here we go.
Steven
Uh, okay, wait. You're free to do whatever you like... as long as it's not destroying a world.
"Mean" Lapis
That's not what you just said a second ago.
"Nice" Lapis
Why would we stop?
Lapis
Because it's wrong!
"Nice" Lapis
Wait, wait, wait, wait, wait. How can the thing we've always done just suddenly be wrong? At the very least, we've got to finish this world! We're almost done!
Steven
... Team huddle?
Lapis
Team huddle.
Steven
One moment, please. *both retreat to the forest*
Steven
You're right. This is harder than usual.
Lapis
You've just got to force them to stop. This is going to be a fight. They're not nice like me.
Steven
Uhmm...
Lapis
Exactly.
Steven
They just don't understand that they're doing harm. Y-you get it. What made it click for you?
Lapis
A cycle of horrible torture. But other than that, living in nature, getting creative.
Steven
Yeah. Come on! We can do that for them.
Lapis
Okay. Just a little torture.
Steven
N-no, just the other stuff.
Lapis
*sighs* Fine. We'll try it your way.
(The two return to the Lapides, walking backward while waving.)
Steven
Hey, so, why don't we explore the many things that you can do that don't involve destroying worlds?
"Mean" Lapis
Should we listen to him?
"Nice" Lapis
He is half-Diamond. Maybe, we should half-listen.
Steven
I'll take that as a "yes." Let's go. *into the forest again; sighs* Look at the trees. Smell the fresh air. Getting any life-altering tingling sensations yet?
"Nice" Lapis
Everything is so... bright.
"Mean" Lapis
*pokes leaf* I prefer only two colors- the colors of rock and mud.
Lapis
I understand you don't see the beauty of this, but you will. There was a time when I couldn't see it either, but I learned to appreciate organic life. It's really different and special. Maybe, try something like this.
(Lapis manipulates mud to create a shape.)
Steven
This is "meep morp." It's subjective and debatable, but it is meep morp nonetheless.
"Mean" Lapis
So, you can do whatever you want with your powers, but you choose to make junk?
Lapis
I-it doesn't have to be exactly this. You can create anything.
(Lapis creates a sun lounger, providing Steven with mud beverage and sunglasses.)
Steven
*drinks mud and spits it out* So lifelike. I forgot.
"Mean" Lapis
Okay?
Lapis
It's more satisfying than you think. Trust me. Just give it a try.
(The Lapides create a ball of water.)
Lapis
That's it! Try making other shapes, too- anything you want.
(So the Lapides do, but it's a spike ball, then a buzzsaw, which they throw and slice a rock behind Steven and Lapis.)
"Mean" Lapis
That was way easier than what we've been doing.
"Nice" Lapis
Yeah! We can clear out this planet in no time!
Lapis
Steven, this isn't working.
Steven
*approaches* A-Ahem. Looks like you two still have a lot of energy to get out. *chuckles Maybe, you'd like something more physical, like dance.
"Nice" Lapis
Dance?
Steven
Just, check this out.
(Steven and Lapis dance to his phone's music, but this doesn't impress "Mean" Lapis. "Nice" Lapis, meanwhile, seems to be getting the groove until she noticed "Mean" Lapis' unapproving stare.)
"Nice" Lapis
Uh... let's get back to it!
Lapis
I get it. This stuff won't make you feel good right away. Maybe, it never will. But, it will help you navigate your new way of feeling. If you don't like dancing, you could try expressing yourself through song.
"Mean" Lapis
Huh?
(Lapis worries in demonstrating, but Steven gives the encouraging nod. Begin "Why So Blue")
Lapis
♫ Ooo-ooo-oooh, Why so bluuu-uu-uuue,
So many shades of sorrow got mixed into my hue.
And each new moment just astounds me. So much I wanna do.
I finally feel my colors shining through.
I'm tired of the fighting. I'm tired of the blame.
That mirror was a prison, and fusion was the same.
What's with these new sensations that suddenly appear?
Deep as the roaring ocean. Free as the atmosphere.
Ooo-ooo-oooh! Why so bluuu-uu-uuue?
So many different reasons, but are they really true?
I wanna keep on going. Wanna be right here with you.
I'd love to see your colors shining throoo-oo-ooough!
I'd love to see your colors shining throoooooooough! ♫
(The Lapides laugh in mockery.)
"Mean" Lapis
You really expect us to dance and sing like Pearls? *laughs* Forget it, Steven Universe. You've already got a Lapis doing what you want, and look how dull it's made her, or was she always this pitiful?
Steven
Th-there's no need to be hurtful. We're just trying to-
"Mean" Lapis
Uh-uh-uh-uh-uh. You've taken enough of our time. Let's get back to it, shall we?
(The Lapides start to terraform.)
Lapis
That's it! I've had enough of you two.
Steven
Wait, we agreed we wouldn't fight.
Lapis
If we had done this my way, we would've been done from the start. *flies to the Lapides*
Steven
Wait!
Lapis
Hey, you two! That's enough.
"Mean" Lapis
Oh, look who it is.
"Nice" Lapis
Have you decided to give us a hand?
Lapis
You could say that.
(Lapis forms hands from her wings, which flick the Lapides away.)
"Nice" Lapis
Did she just do that?
"Mean" Lapis
She did that. *manipulates below water with "Nice" Lapis* Water hands, huh? Mind if we try?
(The water hand slaps Lapis from the sky and is heading to Steven and the bud creatures.)
Steven
*gasps* Oh, boy. *summons shield to protect himself, also holding Lapis* Lapis! Are you okay?
Lapis
I'm fine. Stay out of it. *flies back up, forming water chains as attacks*
"Mean" Lapis
Water chains?
"Nice" Lapis
You really need to stop teaching us new things.
(Lapis is caught by a chain and smashed to the edge wall, then held bound.)
Steven
Lapis!
"Nice" Lapis
We really have to thank you for all the wonderful things you taught us today.
"Mean" Lapis
Turns out, they're not totally useless.
(The Lapides create a saw and throw it at Lapis.)
Steven
Look out!
(Lapis dissipates the saw and causes the area to rumble. Water flows into the area and washes the Lapides over. The former surrounds Lapis to form a giant figure of herself that she controls.)
Lapis
WHO'S DULL NOW? WHO'S PITIFUL NOW?!
(Lapis creates a water harpoon, terrifying the Lapides into submission. However, a glance at Steven stops her, and she returns to the edge.)
Steven
Hey. You okay?
(Bud creature jumps from Steven to Lapis.)
Lapis
Yeah. Sorry about that.
(The water disappears, and Lapis and Steven approach the Lapides.)
Lapis
Hey. We're done. No more fighting.
"Nice" Lapis
Sure!
"Mean" Lapis
Fine by me!
Lapis
And no more terraforming. You'll leave this planet alone?
"Nice" Lapis
Uh huh!
"Mean" Lapis
After that ridiculous show of strength, we'll do anything you say!
Lapis
That wasn't strength! That was weakness. Restraint takes strength. Patience takes strength! ... Ugh. *walks away* I don't have the strength to deal with you.
Steven
... Here's some brochures for our school in case you're interested.
[Trans. Int. Little Homeschool]
Lapis
I wish I hadn't done that. It's just... they reminded me so much of myself. It's infuriating.
Steven
Give yourself a break. You've grown a lot. It's not your fault they're stuck in their ways.
(Lapis smiles from that statement. Suddenly, "Nice" Lapis warps in.)
"Nice" Lapis
Uh, so, is this that school you mentioned?
Lapis
Yeah! Welcome.
[END]
Community content is available under
CC-BY-SA
unless otherwise noted.