"

Yellow Diamond needs to see this...thing

"
—Jasper, in "The Return"
Template:Yellow Diamond
"Yellow Diamond" was first mentioned in "The Return".
Appearance
Yellow Diamond appears to be tall and slender. She has bright, yellow irises. Her hair is styled into a bob-cut with two spiked tips. She seems to have a pointed, upturned nose and plump lips.
Relationships
Yellow Diamond seems to hold some sort of authority over Jasper and Peridot, as they needed to report to her. In "The Return", however, Lapis and Peridot appear to fear her.
In "Cry for Help", Peridot sent out a distress signal using the Communication Hub in hopes that Yellow Diamond would send help.
Appearances
Trivia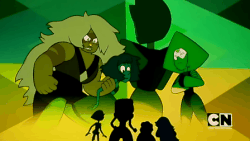 Gemology
Gemstone Information
Diamonds are the stones of truth and victory.

It can also represent purity, innocence and love.

Diamond is the transparent, gemstone-quality crystalline form of carbon and it is indeed the hardest known natural substance on Earth.
Diamonds are typically known to be colorless or 'white', but the most common colors are yellow and brown.
Diamond is the official modern birthstone for April, and it is also used as an official sixty year anniversary gemstone.
References