Jurassic World: Dominion Dominates Fandom Wikis - The Loop
Play Sound
"

Rose used to say there was something about Earth -- something that set Gems free. But it's not just Earth. Look at you. Love, freedom -- it's universal. You all prove it every moment you live as yourselves.

"
—Garnet
"Your Mother and Mine" is the 13th episode of the fifth season of Steven Universe and the 141st episode overall.
Official Synopsis
Steven takes Garnet to meet some of his new friends.[4]
Plot
In space, Lars contemplates his situation and speaks about it, expecting it to be written down by the crew as an entry to the captain's log. Steven comes in through the dimensional portal in Lars' head, and announces a celebration with a hoagie for the Off Colors' most recent accomplishments: escaping from Emerald, rescuing him and Connie from the Jungle Moon, and keeping the Sun Incinerator to travel back to Earth in no time. Lars responds that the latter is only an accomplishment if it works. Fluorite makes an effort to reroute power from the gravity engine to the thrusters, but when Lars powers up the thrusters, they consume too much power and shut down the ship. Since the group is going to be stuck for a while, Steven brings Garnet (in the form of Steven) through his hair.
Steven introduces Garnet to the Off Colors as the leader of the Crystal Gems back on Earth, and Garnet gawks over the flawed, fused, and unique Gems, giving compliments to each. However, this makes the Off Colors uncomfortable, and Steven asks if they have heard a compliment before. Due to Homeworld's conditioning of the group to make them believe that they are defective, Rhodonite believes they do not deserve compliments about being "completely inappropriate". Garnet mentions feeling the same way before meeting Rose Quartz, which draws fear from the Off Colors because they'd heard libelous stories of Rose Quartz as the "anti-Gem", the "hyper-defective", and even not being "real". Garnet begins to tell everyone the story of the "real Rose Quartz".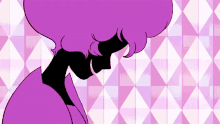 The story begins in Era 1 when Pink Diamond chose Earth to be her first colony. Gems were created to serve their mold and didn't deviate until Rose Quartz was created. Rose Quartz became more attached to Earth's life and beauty as time went on, often leaving her post to examine and even participate with the life teeming around her. Rose could not keep her findings secret forever, however, and eventually asked her fellow kindergarteners if they knew the life on Earth and what they made of it, which raised the concern of Pink Diamond, who then summoned Rose to her. Rose pleaded for her Diamond to stop the colonization and leave the planet, but Pink Diamond prioritized her benefit over Earth's lifeforms and sent Rose back to the kindergarten.
Rose, unable to stand for the continuing destruction of Earth, then started a rebellion and convinced portions of Pink Diamond's colony to side with her. As a result of this, Pink Diamond called on Yellow and Blue Diamond for help in quashing the rebellion. In contrast, Rose could gain allies of Gems who were cast out for being wrong to Pink Diamond, and they could ultimately gather to become the Crystal Gems. However, Homeworld's forces proved to be too powerful, so Rose, having little choice left, shattered Pink Diamond to end the war. An unintended consequence happened, however, in the form of a furious retaliation from Yellow, Blue, and White Diamond: The other Diamonds were furious. In a last-ditch attempt to wipe out the Rebellion, the Diamonds launched a direct attack against Earth, and in their fury, they used their powers to end the fighting once and for all.
The Off Colors are upset by the unhappy ending because now they know Rose is a good Gem and lament her defeat. Garnet reaffirms the battle will eventually be won because the Great Diamond Authority made fabrications that have continued to been proven false and will continue to be, and because allies are everywhere, supported by Steven's encounter with the Off Colors after being on Homeworld for just an hour because love and freedom are universal and not just something acquired by being on Earth. This motivates the group as they work to restart the ship's core and get the ship up and running.
Steven tells Garnet of the vision of Pink Diamond that he and Connie saw while on the Jungle Moon, and recalling his experience with shedding Blue Diamond's tears when she came to Earth, he wonders if Pink Diamond might still be alive. Garnet tells Steven that Rose made sure Pink Diamond is gone, and that his empathetic powers give him these unique abilities and experiences. The group reboots the ship after getting Lars to stop pressing the wrong button, but the nova thrusters still need repairs, so Lars, with Steven and Garnet, sets a course to one of Yellow Diamond's asteroid mines to scavenge for parts so they can fix the ship and finally return to Earth.
Features
Characters
Objects
Locations
Music
Instrumental Songs
Trivia
This episode marks the first onscreen appearance of White Diamond, though she is not directly mentioned and only her hand and silhouette are shown.
In "A Single Pale Rose", Pink Diamond and Rose Quartz are revealed to be one and the same, rendering nearly all of Garnet's story incorrect. Interestingly, the silhouetted art style used in Garnet's story is not used at the very end, when the Diamonds attack Earth (regular animation is used then). This implies that it was the only fully correct part of the story, and the rest is just what Garnet believes happened.
Pink Diamond's hair heavily resembles Rose's shield on her flag for the rebellion.
Despite Padparadscha's ability to predict events that already happened in the recent past, pointing out Garnet's compliments to the Off Colors' discomfort was something that Garnet was not aware of.
Cultural References
This episode's title is a reference to the song of the same name featured in Disney's Peter Pan.
Lars' beginning monologue is a reference to the Star Trek franchise as captains from that series are known for monologuing their ships progress in a Captain's Log in almost every episode.
The silhouetted art style used in this episode most closely resembles the same art style used in flashbacks in the anime Revolutionary Girl Utena.
At the end of the episode, Rhodonite states the mission they were about to embark on is "incredibly dangerous", to which Lars pulls his cape in front of him and dramatically reveals himself again, saying "So are we. Let's show 'em!" - Together, that's a reference to Darkwing Duck's similar iconic pose and catch phrase "Let's get dangerous!".
Continuity
This is the first physical appearance of Steven since "Lars of the Stars".

This is also the first appearance of Garnet since "Gemcation".

The events of how the Rebellion began are detailed in Garnet's story.
Steven mentions the events of "Steven's Dream", "Off Colors", and "Jungle Moon".
Garnet shapeshifts into Steven again, the first occurrence being "Keep Beach City Weird".

Interestingly, despite Garnet's second regeneration, which consists of indigo, orchid and pink colors, her colors on her "Steven" form remain unchanged, keeping with the same Indian-red and black palette.

Greg previously mentioned that Rose's shield had protected herself, Garnet, and Pearl from the Corrupting Light back in "The Return".
Fluorite says that Rose Quartz isn't real. This is technically true, as Rose Quartz is revealed to be a fake identity in "A Single Pale Rose".

Flashbacks from this episode are shown in "A Single Pale Rose".

In "Now We're Only Falling Apart", Pearl tells the true story of how Rose Quartz came to be and how the Rebellion started, as opposed to the phony version that Garnet believed.
Errors
In the scene where Lars takes the sub sandwich away from Steven. The scene changes to a wide shot and the sandwich is gone.
When Padparadscha was sitting in her seat, she appears roughly the same size as Rhodonite and the Rutile Twins.
Before Garnet finishes the story, Padparadscha speaks along with the Off Colors in real-time, despite her sense of time is completely delayed.
Videos
Transcript
View the episode's transcript here.
Gallery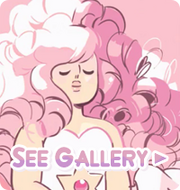 References