Doctor Strange in The Multiverse o Madness - The Loop
Play Sound
Zebra Jasper,[1] also known as the Corrupted Jasper Fusion, is the fusion of Jasper and corrupted Ocean Jasper. She debuted in the episode "Earthlings". This fusion resulted in Jasper's corruption.
While her gemstone and name are not mentioned on-screen, the fusion's design was confirmed by Rebecca Sugar to be inspired by the gemstone zebra jasper.[1]
Appearance
Zebra Jasper has dark orange-yellow skin and dark yellow eyes with mahogany patches caused by Ocean Jasper's corruption. Her hair is Light Ivory, and extends down to her midriff. She has a tail of the same hair. Her body is monstrous, having four arms and four wolf-like legs, somewhat resembling Malachite. Her face is taken from Jasper, but with the Ocean Jasper's mouth. She has five horns on her head, three of which extend out and up. The other two resemble ram's horns extending down. She is approximately two and a half times Jasper's size when on six legs, and about three and a half times Jasper's size from head to tail.
Personality
Not much is known about Zebra Jasper's personality, but she is very brutish and aggressive, going directly to attack Smoky Quartz shortly after fusing. She appears to have a lack of strategy or complicated thinking, as her only method of fighting Smoky is to lumber towards them and swing, which she continues to do even when being blown back by Smoky's yo-yos.
History
During her fight with Smoky Quartz, Jasper decided to fuse with Ocean Jasper in a desperate attempt to turn the tide of battle. This resulted in the creation of Zebra Jasper, who did not take long before she started to attack Smoky with some swift slashes from her clawed hands.
However, despite being intimidated by the fusion at first, Smoky quickly regained the upper hand by using their yo-yos to "blow her away". Zebra Jasper, despite being caught off-guard by the attack, managed to withstand it and slowly advanced toward to Smoky, ready to attack.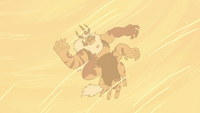 Afterward, Smoky simply summoned more yo-yos to create a tornado, which in return caused the fusion to rise into the air and defuse. Jasper tried to force Ocean Jasper to remain fused, but the monster overwhelmed her and ran away when given the chance, leaving Jasper to be corrupted because of the fusion.
Zebra Jasper was later referenced in "Know Your Fusion" by Smoky while they were talking with Sardonyx in her room, where they said Jasper had a "short fuse" before being corrupted.
Zebra Jasper was referenced once again, while Steven attempts to reason with Jasper, saying that she corrupted herself just to win a fight that she eventually lost.
Episode Appearances
Trivia
It is unknown if Zebra Jasper can speak, as her few utterances have been animal-like growls, cries, and one laugh, presumably from Jasper.
Zebra Jasper is the first fusion between a normal Gem and a Corrupted Gem, as well as the second fusion involving a corrupted Gem in general (the first being Watermelon Tourmaline).
After unfusing, Jasper became corrupted as well, slowly degenerating into a similar Gem monster – notably, the corruption matched the Corrupted Gem's color palette, not Jasper's (showing that a Gem can be corrupted just by fusing with a Corrupted Gem), although greenish impurities are somewhat common in real-world quartz.
Although the Ocean Jasper's gemstone is a hexagon, it is shown to be round while fused. This was most likely an animation error.
Just like Malachite, Zebra Jasper has a centaur-like body shape.
Rebecca Sugar mentioned on The Best Show that the fusion is actually based on yellowish varieties of Zebra Jasper, but that she doesn't (yet) have that name.[1]
Zebra Jasper was the third fusion to have a single-Gem counterpart (a gem with the same name or gem type name as her) be introduced. The first was Garnet, with Hessonite, Demantoid, Pyrope, and the second was Obsidian, with Snowflake Obsidian.

Zebra Jasper is the only one whose counterpart has exactly the same name as her.
| Image | Description |
| --- | --- |
| | Jasper's gemstone is located where the fusion's nose would otherwise be. It is triangular, and faceted onto a low point. It has a diamond-esque shape. |
| | Ocean Jasper's gemstone is on her chest, similar to Amethyst's gem placement. The gem is hexagonal. |
Gallery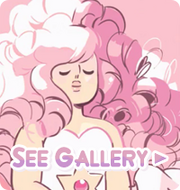 References
↑ 1.0 1.1 1.2 The Best Show1:44:00 - "The fusion isn't called Tiger's Eye, but it's indeed a type of Jasper."1:49:00 - "The fusion is based off a specific type of Zebra Jasper. Some Zebra Jaspers are tinged a little orange. She wouldn't call herself that yet, because she has to decide on her own name, but most likely she would call herself that."
v • e
Fusion Gems
---
Hybrid Fusions
Crystal Gem/Homeworld Gem Fusions