Line 1:
Line 1:
 
+

* {{Stub}}

−

* {{Stub}} {{CharacterBox |Name = Green Zircon |Species = Gem |Gender = |Gender Pronoun = She/Her |Gemstone = Green Zircon |Gem Type = Zircon |Alignment = [[Homeworld Gems]] |Status = Inactive |First Appearance = [[The Trial]]|Sex = Sexless |Voice Actor = [[Amy Sedaris]] |Image = Green Zircon (Monocle).png}} '''Green Zircon '''is a [[Homeworld Gems|Homeworld Gem]] that made her debut in [[The Trial]]. ==Appearance== Green Zircon shares the same shape and attire as [[Blue Zircon]], only with all green, and her monocle's on her left eye. She also has more spiky hair. ==Personality== Green Zircon is shown to be very confident know-it-all gem. She is shown to take pride in her work and takes pleasure in others lack of success. ==History== ==Powers and Abilities== ==Gemology==

 
 
+

{{CharacterBox

 
+

|Name = Green Zircon

 
+

|Species = Gem

 
+

|Gender =

 
+

|Gender Pronoun = She/Her

 
+

|Gemstone = Green Zircon

 
+

|Gem Type = Zircon

 
+

|Alignment = [[Homeworld Gems]]

 
+

|Status = Inactive

 
+

|First Appearance = [[The Trial]]|Sex = Sexless

 
+

|Voice Actor = [[Amy Sedaris]]

 
+

|Image = Green Zircon (Monocle).png}}

 
+

'''Green Zircon '''is a [[Homeworld Gems|Homeworld Gem]] that made her debut in [[The Trial]].

 
+
 
+

==Appearance==

 
+

Green Zircon shares the same shape and attire as [[Blue Zircon]], only with all green, and her monocle's on her left eye. She also has more spiky hair.

 
+

==Personality==

 
+

Green Zircon is shown to be very confident know-it-all gem. She is shown to take pride in her work and takes pleasure in others lack of success.

 
+
 
+

==History==

 
+
 
+

==Powers and Abilities==

 
+
 
+

==Gemology==

 

[[Category:Gems]]

 

[[Category:Gems]]

 

[[Category:Zircons]]

 

[[Category:Zircons]]
---
Revision as of 01:15, 30 May 2017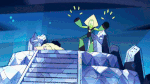 "You have to fix this!"
Green Zircon is a Homeworld Gem that made her debut in The Trial.
Appearance
Green Zircon shares the same shape and attire as Blue Zircon, only with all green, and her monocle's on her left eye. She also has more spiky hair.
Personality
Green Zircon is shown to be very confident know-it-all gem. She is shown to take pride in her work and takes pleasure in others lack of success.
History
Powers and Abilities
Gemology
Community content is available under
CC-BY-SA
unless otherwise noted.