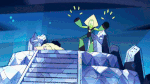 "You have to fix this!"
Green Zircon is a Homeworld Gem that made her debut in "The Trial".
Appearance
Green Zircon shares the same shape and attire as Blue Zircon, only with all green, and her monocle's on her left eye. She also has spikier hair than that of Blue Zircon's, which resembles the hair of Yellow Diamond in shape.
Personality
Green Zircon is shown to be very confident know-it-all Gem. She is shown to take pride in her work and takes pleasure in others lack of success, acting very haughty towards Blue Zircon and mocking her representing a rebel as an act of treason (disregarding the fact Blue Zircon was assigned to defend the accused).
She is such a brown-noser that even Yellow Diamond tells her to get on with it, and it apparently gets her poofed after the trial sours.
History
Green Zircon is the prosecutor in Steven's trial. During the first half, she had shown more evidence against Rose than Blue Zircon, causing the latter to panic. During the second half, she was astounded by Blue Zircon's case and accusation. She was poofed because of Yellow Diamond's frustration with Blue Zircon. It is unknown if she has regenerated since or not.
Abilities
Hologram Projection: Green Zircon, much like Blue Zircon has the ability to make holographic screens that are produced from her monocle.
Gemology