This article is about the Prosecuting Zircon. You may be looking for the Defending Zircon.
"

Defending a rebel? Isn't that... treason?

"
—"The Trial"
Zircon is a Homeworld Gem who served as the prosecutor during Steven's trial. She made her debut in "The Trial".
Appearance
Zircon shares a similar appearance and attire as the defending Zircon. While only seen tinted as green, it has been confirmed that she is a yellow Gem.[1]
Her skin appears to be a light green-yellow color. She has olive-yellow eyelids, a long slim nose, and chartreuse-yellow hair[2] that has two spikes, similar to Yellow Diamond's hair. She wears pale green-yellow pants and shoes with an oversized, light-colored vest with darker trimmings and a tinted necktie that is diamond-shaped. Like the defending Zircon, she wears a monocle, except hers is yellow and on her left eye. Her gemstone is square-shaped and located on her jugular cavity, where the knot of her tie would be.
Personality
Zircon is shown to be a very confident Gem with the attitude of a know-it-all. She takes pride in her work and finds pleasure out of others' failures, acting very haughty towards the defending Zircon and mocking her representing a rebel as an act of treason (disregarding the fact that the she was assigned to defend the accused and didn't have a choice).
She is a bootlicker, so excessively to the point that even Yellow Diamond tells her to stop, but her attitude continues to show so strongly that it gets her poofed after the trial sours.
Despite acting passionately in court, she has enough emotional restraint that when hit by Blue Diamond's pathokinetic energy wave, the most she did was shed a single tear without any reaction, something not even Yellow Diamond could do. However, Lapis also shed a single tear when hit by Blue Diamond's pathokinetic energy wave, which was because of having suffered a large amount of emotional pain; it is unknown if this applies to the prosecuting Zircon as well.
History
Zircon is the prosecutor in Steven's trial. During the first half, she had shown more evidence against Rose Quartz than the defending Zircon, causing the latter to panic. During the second half, she was astounded by the defending Zircon's case and accusation. Yellow Diamond poofed her out of frustration from the defending Zircon. It is unknown if she has regenerated since. According to Rebecca Sugar she is alive but in trouble.[3]
Relationships
Although not much can be said about their relationship before Steven's trial, due to being on different sides of Homeworld's legal system, the two Zircons are at odds with one another during the trial. The prosecuting Zircon even mocks her sarcastically for being assigned to defend Rose Quartz, saying that she is basically committing treason by doing so. The Prosecuting Zircon, however, looks very shocked when Zircon is defending Steven. They are standing next to each other during Steven's transmission in Steven Universe: The Movie, however, implying they are now on better terms.
"

Case closed! Right, my Diamond?

"
—"The Trial"
As Yellow Diamond is her leader, Zircon has much dedication and pride serving her Diamond. However she is a bit of a brown-noser constantly over declaring her pride for her Diamond much to the annoyance of her leader.
Zircon was assigned as Steven's prosecutor when he is tried as Rose Quartz for Pink Diamond's shattering. She expresses disgust at Rose's rebellion, and describes the humans she protects as being loud, hideous, and without purpose, in addition to not understanding why she would turn against Homeworld. In Steven Universe: The Movie, she watches Steven's transmission with the prosecuting Zircon, having presumably found out he was a separate person from Rose Quartz, as well as the truth behind Pink Diamond's alleged shattering.
Abilities
Zircon possesses the ability to bubble and presumably other standard Gem abilities.
Hologram Projection: Zircon, much like the defending Zircon, can make holographic screens that she can produce from her monocle, presumably without any technological assistance. The holograms are projected first from her monocle, which appears to be part of her form since it disappeared when Yellow Diamond poofed her.
Pathokinetic Resistance: Zircon reacted very little to Blue Diamond's incapacitating emotional waves, showing at most some mild confusion at the effect.
Episode Appearances
Trivia
In the original storyboards by Katie Mitroff, Zircon's hair shaped into one point rather than two.
Zircons are usually associated with healing, balance, and harmony. They are also known for repelling negative energy. This trait mirrors the actions of a prosecuting attorney, as "negative energy" is brought to justice.
| Image | Description |
| --- | --- |
| | Zircon's green-yellow gemstone is located on her jugular cavity; it has a rectangular shape and a four-faceted facet. |
Gallery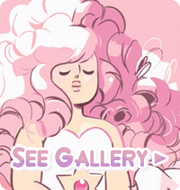 References
↑ Q: "A question that needs answers: Is the second zircon yellow or green?"
A: "She's yellow!"
– rnn-draws on Tumblr
Community content is available under
CC-BY-SA
unless otherwise noted.